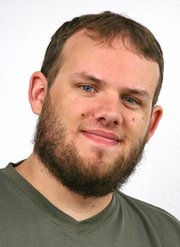 Weekend movie show times
West Theatre
29 E. Victory Way
824-2000
• "Mission: Impossible — Ghost Protocol," PG-13; 7 and 9:05 p.m. Fri. and Sat., 4 and 7 p.m. Sunday
• "Alvin and the Chipmunks: Chipwrecked," PG; 7 and 9:05 p.m. Fri. and Sat., 4 and 7 p.m. Sunday, 7 p.m. Monday and Tuesday
• Tickets: $7 for ages 10 and older, $5 for ages 9 and younger
• Sunday matinee: $5 for ages 10 and older, $4 for ages 9 and younger
Submit your event
Submit your event's details for consideration by emailing me at mballeck@craigdai... or calling 875-1790.
There's never a bad time to discover a new hobby or learn more about things you've always been curious of.
This week has plenty of opportunities to do both within Northwest Colorado, as well as the possibility of maybe hitting it big while cleaning out your house.
■ From 9 a.m. to 6 p.m. today, Thursday and Friday, and 9 a.m. to 4 p.m. Saturday, you can have family heirlooms and the like evaluated by the International Gold, Silver and Diamond Buyers, situated at the Hampton Inn & Suites, 377 Cedar Court. There's no cost to bring in things like old jewelry, rare coins and other such items for evaluation.
You could go home with $5, $500 or even more, but there's only way to find out what your clutter is worth, so don't delay in showing your stuff to the people who can pay top dollar.
For more information, call 217-726-7590.
■ The Memorial Hospital, 750 Hospital Loop, kicks off its Lunch and Learn series at 11:45 a.m. today. 
Get a free meal while learning more about the Direct Wellness Lab Testing now being offered at TMH.
Chief of Staff Scott Ellis and Laboratory Manager Kristine Cooper will discuss the importance of the service and options the hospital offers. There's no need to make a reservation — there's space for all in the conference rooms.
For more information, call Jennifer Riley at 826-3109.
■ As long as you're gathering information about healing, take the chance to open your mind to the unusual.
Take part in "The Legends of Crystals," a workshop hosted by Colorado Northwestern Community College from 6:30 to 7:30 p.m. tonight at Hayden Library, 201 E. Jefferson Ave.
Sharon Miller, of the Craig business Crystal Sanctuary, will enlighten people about the kind of properties crystals contain.
For more information or to sign up, call Lindsay at 276-7291.
■ Did somebody say "Colorado Idol?"
Cheer on the songsters of our corner of the state when Steamboat Springs watering hole The Tugboat, 1860 Ski Time Square, takes part in the Colorado Songwriters Competition at 8 p.m. Thursday. If you've got a ditty in your head and feel it could be the next big hit, feel free to enter yourself.
Any singer-songwriter who resides in Colorado is eligible to perform their original tunes and may have the chance to appear at the 7908 Aspen Songwriters Festival.
For more information on how to enter, call 879-7070 or visit www.wheeleroperahouse.com.
■ You never know where tomorrow's theatrical stars will come from. If your child is a born performer, there's a perfect outlet for their talents available.
The Missoula Children's Theatre will host auditions for a production of "The Tortoise Versus the Hare" at 4 p.m. Tuesday in the Moffat County High School auditorium, 900 Finley Lane.
Kids in kindergarten through sixth-grade are needed, and organizers hope to have more than 50 in the cast. Just keep in mind before you rush into anything that a rehearsal commitment is required.
For more information, call Jennifer Riley at 826-3109 or Michele Chalmers at 824-5522.
■ Shameless self-promotion time: Take a look at my reviews of "Sherlock Holmes: A Game of Shadows" and "The Descendants" if you're trying to decide which movies you want to see on the big screen in Craig or in Steamboat Springs. More are soon to come, I promise. Incidentally, catch "Sherlock" while you can because it'll be out of town after Thursday night.
■ West Theatre's newest shows are a pair likely to satisfy adults and children alike, though perhaps it'd be best if you each saw them separately. Drop the kiddos off at "Alvin and the Chipmunks: Chipwrecked" while you take in the espionage of "Mission: Impossible — Ghost Protocol."
If you're staying in for the weekend, take home a new pair of DVDs to satisfy both the people in your relationship. For the guys, the gun-toting "Killer Elite" and for the ladies, the rom-com "What's Your Number?"
Redbox brings in both high-profile movies like "Moneyball" and the smaller, character-driven "Higher Ground." If you thought "Shanghai Noon" was the closest you'd get to seeing martial arts star Jackie Chan in a historical feature, take a glance at "1911," the story of a tumultuous time in China.
Click here to have the print version of the Craig Daily Press delivered to your home.