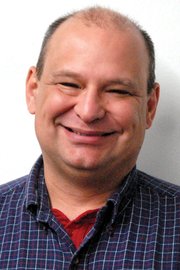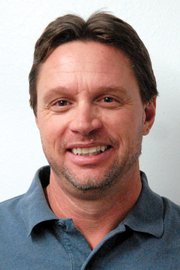 Quotable
"If it is an exciting game and there is a good crowd, they will tell how the game is going better than me talking. I don't want to get in the way of the viewing experience, but rather (improve) the viewing experience."
— Gaylon Kent, 46, of Steamboat Springs, about what he wants to bring to online broadcasts of Moffat County High School athletic events
Schedule ...
Remaining broadcast schedule for the 2011-2012 Moffat County High School basketball season. Games can be seen live at www.craidailypres...

(Date — opponent — times)

• Jan. 13 — Eagle Valley — Girls 6 p.m., Boys 7:30 p.m.

• Jan. 20 — Delta — Girls 6 p.m., Boys 7:30 p.m.

• Jan. 21 — Palisade — Girls 2 p.m., Boys 3:30 p.m.

• Jan. 24 — Steamboat Springs — Girls 6 p.m., Boys 7:30 p.m.

• Feb. 4 — Battle Mountain — Girls 2 p.m., Boys 3:30 p.m.

• Feb. 7 — Basalt — Boys 7 p.m.

• Feb. 14 — Glenwood Springs — Girls 6 p.m., Boys 7:30 p.m.
The Craig Daily Press has hired two announcers for play-by-play and color commentary during broadcasts of Moffat County High School athletic events.
Gaylon Kent, 46, will be announcing while Steve Moss, also 46, will be in charge of controlling the systems as well as announcing.
Kent and Moss are from Steamboat Springs.
"I have done radio announcing before so I wanted to see if I could still do it, and it sounded like fun," Kent said. "When you are doing video it is different than radio, so I am looking forward to the challenges this position brings."
Kent, who grew up in Los Angeles, was a radio announcer from 1988 to 1995 in El Centro, Calif., at KXO radio. He served as a disc jockey as well as covering play-by-play duties for high school football and basketball games.
In the summer of 1995, Kent announced for a short-lived independent baseball league before accepting a reporting position at the Imperial Valley Press in El Centro.
Kent said he's had an interest in broadcast since he was a kid going to sporting events with his father.
"I would always find myself announcing the game inside my head when I would go to games with my dad," he said. "There has always been something inside me that allows me to like doing things in broadcasting."
Kent said the sounds and visuals of a game can help tell the story during a video broadcast.
"If it is an exciting game and there is a good crowd, they will tell how the game is going better than me talking," he said. "I don't want to get in the way of the viewing experience, but rather (improve) the viewing experience."
Moss is a former girls basketball coach for Steamboat Springs High School and Hayden High School. He spent seven years at the helm of the Sailors and two in Hayden.
After coaching, Moss did play-by-play announcing for the Sailors on KBCR in Steamboat.
Moss also served as head of the Colorado High School Activities Association's Class 4A and 5A girls basketball playoff selection committee for two years.
Moss said he hopes he can provide more analysis than radio broadcasting allowed.
"Hopefully I will be able to talk about the more subtle things going on and some of the things the coaches said they are looking for in the game," he said. "I love watching basketball, and I have been in the Yampa Valley for 20 years and have watched Moffat County basketball since (Craig) Mortensen was coach."
Bryce Jacobson, publisher for the Craig Daily Press, said Kent and Moss would be assets even in the first year of broadcasting MCHS games.
"(Kent and Moss) have great chemistry, work well together and they know basketball," he said. "I feel these two guys will provide a fun and quality broadcast."
Click here to have the print version of the Craig Daily Press delivered to your home.