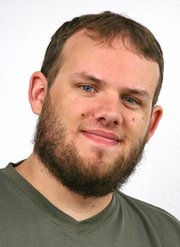 Weekend movie show times
West Theatre
29 E. Victory Way
824-2000
• "Sherlock Holmes: A Game of Shadows," PG-13; 7 and 9:05 p.m. Fri. and Sat., 4 and 7 p.m. Sunday
• "We Bought A Zoo," PG; 7 and 9:05 p.m. Fri. and Sat., 4 and 7 p.m. Sunday, 7 p.m. Monday and Tuesday
• Tickets: $7 for ages 10 and older, $5 for ages 9 and younger
• Sunday matinee: $5 for ages 10 and older, $4 for ages 9 and younger
Submit your event
Submit your event's details for consideration by emailing me at mballeck@craigdai... or calling 875-1790.
With all the hoopla of the holidays quieted down, it's time to start making 2012 count. And, what better time to start on those resolutions than the first week of January?
■ Get more involved in your community by letting people know what's on your mind for making Craig a better place.
Stop by the Community Envisioning Session hosted by the Moffat County Tourism Association at 5 p.m. Thursday at the Holiday Inn of Craig, 300 S. Colorado Highway 13.
Voice your opinion on the best attributes of the area to advertise to prospective tourists, be it summer's Whittle the Wood or all the natural beauty that is Moffat County.
For any questions, call 824-2335 or email Melody Villard at mvillard@moffatcounty.net.
■ For the politically-minded, Thursday is a good night as a whole to get involved.
As part of their regular monthly meeting, the Bears Ears Tea Party Patriots will host members of the Craig City Council.
If you've been unable to attend council meetings or just want to get some face time with local elected leaders, be sure to check it out.
The meeting begins at 7 p.m. Thursday at The Center of Craig, 601 Yampa Ave.
■ If your resolution is to open yourself up to more culture, get cracking Friday night at the monthly Variety Show, in the lower level of the Veterans of Foreign Wars Post 4265, 419 E. Victory Way.
Special guests California Bill, Nashville Dave, Wet Juan and Memphis Steve will be making an appearance, along with other local acts.
The show begins at 7 p.m. and admission is free, so get a good seat early and beat the crowd.
For more information, call Steve Ghiradelli at 824-4791.
■ If you've been meaning to read more, it can be much easier to crack open a book if you've shared words with the author.
Local writer Cammi Balleck will sign copies of her book "Making Happy Happen: Secrets to Being On Cloud Nine Every Day" as part of Culture Night at the Craig branch of the Moffat County Libraries, 570 Green St.
For more information, call 824-5116.
■ West Theatre will keep "Sherlock Holmes: A Game of Shadows" and "We Bought a Zoo" for another week, both movies worth watching more than once, in my humble opinion.
A wide array of new DVDs are out this week, be it the documentary "I Am," the rockumentary "Pearl Jam: 20" or "Contagion," which, while fictional, is frighteningly realistic.
Speaking of scares, take in a new feature from Redbox like "Don't Be Afraid of the Dark." If laughs are more your speed, go for the action comedy "The Guard" or the Sarah Jessica Parker-starring "I Don't Know How She Does It."
The rental outlet also brings in "The Hangover Part II," "Cowboys and Aliens," "Mr. Popper's Penguins" and "The Debt" for those of us who don't mind waiting a month to view movies for just a little more than a dollar.
Click here to have the print version of the Craig Daily Press delivered to your home.