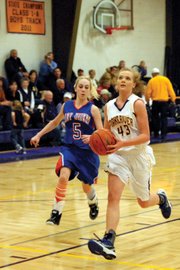 Results ...
Results from the Little Snake River Valley (Wyo.) School girls varsity basketball team's game Saturday in the 1A West Regional Tournament in Lander, Wyo.:
• LSRV — 70
• Cokeville — 46
— LSRV took first place in the regional tournament
LSRV leading scorers
(Name — points)
• Caelee Criswell — 23
• Morgan Wille — 13
• Taylor Kaisler — 12
• Lydia Skalberg — 12
Jodi Stanley said the Little Snake River Valley (Wyo.) School girls varsity basketball team wanted to come out strong Saturday in the finals of the 1A West Regional Tournament.
The Rattlers wasted no time, jumping out to a 25-6 lead after the first quarter and cruising to a 70-46 victory over Cokeville.
"We forced a lot of turnovers in the first four minutes of play and we capitalized on them and set the tone for the rest of the game," said Stanley, the Rattlers head coach. "I think we made them a little nervous early, but they played us even for the next three quarters. We just came out strong early."
Senior Morgan Wille started the Rattlers off with two steals, which turned into four quick points to give LSRV a 4-0 lead.
The Rattlers (25-0) shot 51 percent from the field and 60 percent from the free throw line.
Stanley said her girls came into the regional tournament shooting below 50 percent from the charity strip, but really stared to focus at the end of the season.
"I think they understand the gravity of where they are at and they are concentrating more and more," she said. "They are starting to be more relaxed at the free-throw line and shooting well.
"They didn't do that well all season, so it is nice to see them doing well now."
Senior Caelee Criswell led the Rattlers with 23 points, Wille added 13 and junior Taylor Kaisler and sophomore Lydia Skalberg each scored 12.
With the regional championship, the team from Baggs, Wyo., locked up a No. 1 seed in the state tournament, which begins Thursday and goes through Saturday at Casper Events Center in Casper, Wyo.
The Rattlers play Hulett at 9 a.m. Thursday in the opening round.
Last year, the Rattlers took third after losing to Cokeville in the semifinals.
Stanley said her players have a few things to work on this week, like half-court defense, but they are keeping their eyes on the prize.
"Last year, I felt we were a better team, we just had a lack of focus," she said. "This year, we have a lot of confidence, and instead of playing not to lose, we are playing to win."
Click here to have the print version of the Craig Daily Press delivered to your home.