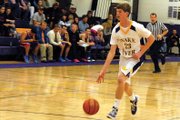 Results ...
Results from the Little Snake River Valley (Wyo.) School boys varsity basketball team's game Saturday in the 1A West Regional Tournament in Lander, Wyo.:
• LSRV — 63
• Burlington — 53
— LSRV took first place in the regional tournament
LSRV leading scorers
(Name — points)
• Daniel Wille — 36
• Conner Lee — 11
• Miles Englehart — 6
Paul Prestrud said when a shooter is on, there is no stopping them.
Such was the case for Daniel Wille, a Little Snake River Valley (Wyo.) School senior, on Saturday in the finals of the 1A West Regional Tournament.
The Burlington defense collapsed inside the paint, forcing the LSRV boys varsity basketball team to take shots from the outside.
Wille responded, scoring 36 points, including six 3-pointers, to lead the Rattlers to a 63-53 victory and the senior class's first regional championship.
"Daniel is a shooter and when a shooter is feeling it, it is hard to slow them down," said Prestrud, the Rattlers head coach. "It didn't matter if he was five feet behind the arc or four feet from the basket, his shots went in.
"It was his night, and he played really well."
Burlington gave the Rattlers (25-0) one of their closest games all season.
LSRV led by six after the first quarter and by four heading into halftime, but the Rattlers made the plays when it mattered.
"We were never really able to pull away, but we played good defense and some big steals helped us out," Prestrud said. "We had 15 steals against a pretty good team and we worked hard for all of those and they kept us in the game."
LSRV extended their lead to nine heading into the fourth quarter by continuing to use strong perimete shooting and senior Rex Stanley's rebounding.
Stanley grabbed 11 rebounds despite strong post play from Burlington.
Junior Conner Lee finished behind Wille with 11 points and senior Miles Englehart added six.
While the Rattlers brought home a state basketball title last season, Wille, Englehart and Stanley had yet to win a regional championship.
In their final season, Prestrud said the seniors appreciated what they did, but are still focused on another state title.
"They recognize it was a good win, but they had this steely confidence about them in the locker room afterwards," he said. "They didn't make a big deal because their job isn't done yet. Yes, we won, but we have three more games until the state title.
"We are on a mission."
The Rattlers open the state tournament against Midwest at noon Thursday at the Casper Events Center in Casper, Wyo.
Click here to have the print version of the Craig Daily Press delivered to your home.