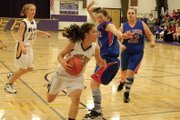 Results ...
Results from the Little Snake River Valley (Wyo.) School girls varsity basketball team's games Thursday and Friday in the 1A West Regional Tournament in Lander, Wyo.:
Thursday
• LSRV — 78
• St. Stephens — 54
Friday
• LSRV —50
• Farson-Eden — 34
— LSRV plays Cokeville in the finals at 2:45 p.m. today
Farson-Eden gave the Little Snake River Valley (Wyo.) School girls varsity players their closest game of an undefeated season this year.
On Jan. 20, Farson came close to upending the Rattlers, but ultimately fell, 37-31, at home.
The Pronghorns met a similar fate Feb. 11 in Baggs, Wyo., falling 45-33.
On Friday, Farson had one more chance to beat LSRV in the semifinals of the 1A West Regional Tournament in Lander, Wyo.
However, the Rattlers again stifled the Pronghorns offense, scoring a 50-34 victory and a spot in the regional championship game today against Cokeville.
"We knew (Farson) was going to try and break through our press, so we really worked on our half-court defense and we were able to do that well," head coach Jodi Stanley said. "We would go up by 10 or 12, then they would make a run. I was pleased with the girls' composure and being able to withstand the runs."
The Pronghorns shut down two of the Rattlers (24-0) leading scorers, seniors Caelee Criswell and Morgan Wille, so the team saw other girls step up.
Sophomore Lydia Skalberg led the way with 20 points and senior Shelby McKee and junior Taylor Kaisler each added 10.
On Thursday, the Rattlers got their first win of the tournament, beating St. Stephens, 78-54.
Criswell led the way with 22 points and Kaisler added 16.
"St. Stephens was poised to cause us problems with good outside shooting and a really big girl inside," Stanley said. "But they couldn't match our team speed and they turned the ball over a lot."
The LSRV-Cokeville game tips off at 2:45 p.m. today in Lander.
Like Farson, Cokeville has lost to the Rattlers twice this season — 47-36 on Jan. 21 and 58-48 on Feb. 10.
"Cokeville bounced us from the state tournament last season," Stanley said. "It's going to be a good match-up."
Click here to have the print version of the Craig Daily Press delivered to your home.