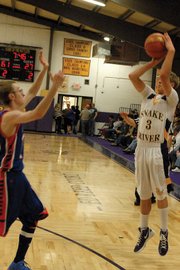 Results ...
Results from the Little Snake River Valley (Wyo.) School boys varsity basketball team's games Thursday and Friday in the 1A West Regional Tournament in Lander, Wyo.:
Thursday
• LSRV — 85
• St. Stephens — 58
Friday
• LSRV —79
• Ten Sleep — 51
— LSRV plays Burlington in the finals at 1 p.m. today
Miles Englehart, Rex Stanley and Daniel Wille have brought a state basketball title back to Baggs, Wyo., but never a regional championship.
After two blowout wins Thursday and Friday, the Little Snake River Valley (Wyo.) School seniors will have a chance to complete their goal today in the 1A West Regional Tournament finals.
The Rattlers (24-0) beat St. Stephens, 85-58, Thursday in the quarterfinals in Lander, Wyo., and pulled away Friday against Ten Sleep to score a 79-51 victory and a spot in the finals.
LSRV will match-up against Burlington at 1 p.m. today in the championship game in Lander.
"Burlington has a lot of good athletes like us and this will be as good a game we will have played all year," head coach Paul Prestrud said. "The seniors have never won a regional championship, so it would be another feather in their cap. It wouldn't ruin our season to lose, but it is a goal we want to achieve."
Prestrud said the Rattlers, who are the No. 1 seed from the southwest region, started out slow against Ten Sleep, with the two teams trading baskets early.
But after switching to a man-to-man defense, the Rattlers made their run in the second half, fueled by Englehart's team-leading 24 points.
"(Ten Sleep) was able to break our press early, but in the second half we ran away with it," Prestrud said. "They had some good guards who could push the ball down the court. We didn't always feel comfortable and we got into some foul trouble, but overall we played good."
Englehart also lead the Rattlers in scoring against St. Stephens with 23 points and Wille added 22.
"We took the lead early against St. Stephens and we never backed down," Prestrud said. "It was a fun game and we had a lot of guys score."
Click here to have the print version of the Craig Daily Press delivered to your home.