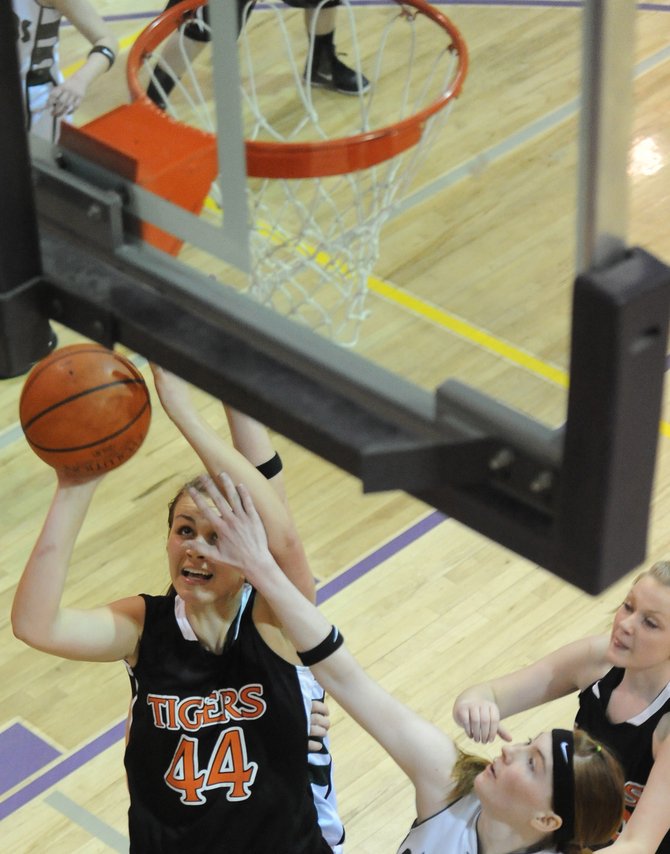 Hayden girls basketball cruises against Rangely, takes 3rd seed
Updated February 27, 2012 at 9:28 a.m.
Bouncing back
Photo Gallery
Hayden boys, girls hoops dominate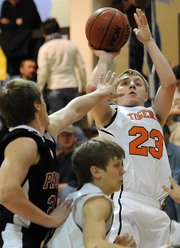 2011-12 Tigers girls basketball schedule
Dec. 1 to 3: Meeker Tournament — Game 1: Hayden 56, Cedaredge 37; Game 2: Hayden 38, Palisade 31; Championship game: Hayden 50, Grand Valley 40
Dec. 8: Hayden 56, Vail Christian 21
Dec. 16: Hayden 65, North Park 26
Dec. 17: Little Snake River 50, Hayden 43
Jan. 3: 6:30 p.m. vs. Basalt
Jan. 6: Meeker 62, Hayden 59
Jan. 10: 7 p.m. at Little Snake River
Jan. 13: Hayden 70, West Grand 20
Jan. 14: Hayden 61, North Park 22
Jan. 21: Hayden 56, Vail Christian 32
Jan. 27: Hayden 52, Soroco 35
Jan. 28: Rangely 42, Hayden 33
Feb. 3: Hayden 63, Plateau Valley 36
Feb. 4: Paonia 83, Hayden 65
Feb. 10: Hayden 62, Soroco 52
Feb. 11: Hayden 72, West Grand 31
Feb. 21: Hayden 52, Soroco 51
March 2 and 3: Regional tournament
Kremmling — Hayden High School girls basketball coach Michelle Wilkie isn't dumb. 
She can look at her team and know where things should develop. 
"When you have two kids that are 6 foot tall, you have to use them," Wilkie said about senior forwards Aubree Haskins and Erin Koehler. "But it's taken us two or three months to figure it out. Now we've got it."
The Tigers certainly do. A night after playing with top-ranked Paonia for three quarters, Hayden ran away from Rangely on Saturday with a 61-43 win.  
The forward combo of Haskins and Koehler thoroughly dominated, combining for 38 points, including 26 from Koehler. 
"We got the ball to Aubree and Erin as much as possible," Wilkie said. "The wings and guards did a good job of getting in there."
After the two teams traded blows for most of the first half, with Hayden taking a 30-23 lead at half, the Tigers started to impose their will in the second half. 
Thanks in large part to Koehler — who scored 20 of her game-high 26 points in the second half — Hayden started to extend its lead. 
Koehler consistently got position on the low block and tallied four easy buckets. When given the ball on the outside, Koehler showed she's much more than just a post. 
The senior hit a pair of 3-pointers to help the Tigers to a 48-34 lead heading into the fourth quarter.  
"Our first priority is going inside and then kicking it out," said Koehler, who also had 14 rebounds. "I was just looking for my shots. I was feeling it and my team was giving me the ball."
Rangely made a mini run in the fourth quarter, cutting the lead to 52-41 with 3 minutes, 36 seconds left in the game. But Koehler scored back-to-back buckets, and Haskins added one of her own to thwart any thoughts of a comeback. 
Hayden now will be the third seed out of District 5. The team will play Friday and Saturday at Standley Lake High School. 
Full brackets should be available Sunday. 
The site has good memories for Hayden: The team qualified for state three seasons ago in the Standley Lake gym. 
Wilkie said she has no idea what to expect but was eager to get home Saturday to start prepping for the week ahead. 
"That's my job now is to figure that out," she said. 
To reach Luke Graham, call 970-871-4229 or email lgraham@SteamboatToday.com