Photo Gallery
Stocking the pond at Wyman Museum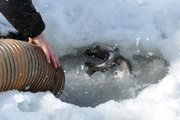 If you go …
What: Not-So-Winter Festival
When: Begins at 10 a.m. Saturday
Where: Wyman Living History Museum, 94350 E. U.S. Highway 40
— For more information, call 824-6346.
Not-So-Winter Festival schedule of events
• 7 a.m. Registration for the Western Ride-In Antique Snowmobile Show begins.
• 10 a.m. Snowmobile show begins.
• 11 a.m. to 2 p.m. Ice fishing derby for children ages 16 and younger takes place at the pond near the museum. The event is free. Prizes will be awarded for first and last fish caught and biggest and smallest fish caught.
• 11 a.m. Registration begins for the cardboard box sledding derby.
• 11 a.m. Sampling begins in the seventh annual Chili Cook-Off. Registration costs $15 for Craig Chamber of Commerce members and $20 for non-members. Samples cost $2 and a full bowl costs $3.
• 2 p.m. Pond puck hockey game between Craig and Steamboat Springs co-ed teams.
Quotable
"Once we said it was a Not-So-Winter Festival, it started snowing. (We) should have said that months ago."
— Nicky Boulger, Wyman Living History Museum office manager, on the museum's annual winter event.
Fat flakes of snow fell Wednesday morning as a truck slowly lumbered to the pond below Wyman Living History Museum.
It just arrived from the Rifle Falls State Fish Hatchery and contained an unusual cargo—about 200 rainbow trout that, with any luck, will end up on hooks Saturday during a free ice fishing derby for children ages 16 and younger.
The derby is just one of the events slated for the museum's first Not-So-Winter Festival.
The Colorado Division of Wildlife will provide poles and bait to children who want to try ice fishing but don't have the gear.
"This may be the only way some kids would get to ice fish," said Nicky Boulger, the museum's office manager.
Other festival events include an antique snowmobile show, a chili cook-off hosted by Craig Chamber of Commerce Ambassadors, a pond puck hockey game and a cardboard box sledding derby.
Until recently, the weather seemed unwilling to deliver the usual snowfall of a Craig winter. Museum staff tried to compensate by making their own snow, but the plan fell short, Boulger said.
"It's just been too warm," she said.
As a result, a freestyle snowmobile show scheduled for the festival was canceled and will have to wait for a snowier season.
Museum staff members weren't about to call off the entire event, though.
"The thought never crossed our minds," Boulger said.
Instead, "We just kind of rolled with it," she said.
She and Mike Swaro, Division of Wildlife district wildlife manager, watched Wednesday as a torrent of water and fish rushed down a collapsible hose connected to a spigot on the hatchery tank. Rainbow trout—most of them a foot or so in length—thrashed a moment on the pond's snow-covered surface before disappearing into two freshly drilled holes in the ice.
The fish have no problem surviving in the frigid water, said Swaro, who will help introduce novice ice fishers to the sport before Saturday's derby.
He and Boulger stood in the fresh powder as they watched the last of the fish spill from the tank.
The irony of Wednesday morning's heavy snowfall wasn't lost on Boulger.
"Once we said it was a Not-So-Winter Festival, it started snowing," she said earlier. "(We) should have said that months ago."
Click here to have the print version of the Craig Daily Press delivered to your home.