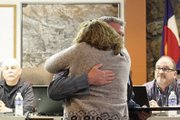 In other action ...
At its regular meeting Tuesday, the Craig City Council:
• Approved renewing the hotel and restaurant liquor license for Cugino's at 572 Breeze St.
• Awarded a bid for one heavy duty high-lift wheel loader and two single axle cab and chassis for the road and bridge department.
• Awarded a bid for two patrol vehicles and one investigations vehicle for the Craig Police Department.
• Approved ordinance No. 1018, a supplemental appropriation ordinance to carryover into 2012 budgeted 2011 projects or commitments not accomplished.
• Discussion a draft lease between the city and Veterans of Foreign Wars Post 4265 for Veterans Memorial Park.
• Considered a memorandum of understanding between the Craig Chamber of Commerce, Moffat County Tourism Association, Moffat County and the City of Craig for the Moffat County Visitor Center.
• Heard a month end water and wastewater reports for January 2012.
• Heard the police department's month end report for January 2012.
Tears flowed Tuesday night at Craig City Hall as three Craig Police Department officers were recognized for their efforts to save a local resident from a burning home.
Officer Mike Edwards was presented with the Craig Police Department's Medal of Valor by Chief Walt Vanatta for his role in removing Patrick Hunter, 75, from his burning home Feb. 7 at 1912 Woodland Ave.
The ceremony honoring the officers took place during the Craig City Council meeting.
During the presentation, Vanatta read the narrative of events into the council record.
The narrative is as follows:
"On Feb. 7, 2012, at approximately 7:45 p.m., you responded to a house fire at 1912 Woodland Ave. The house was in flames.
"Hearing a voice inside the home you opened the door. You could hear a voice and through the thick smoke could see a hand on the door.
"The person couldn't crawl and became unresponsive. At extreme risk to your own safety, you entered the smoke-filled house and grabbed the person. Not being able to see, you began dragging the person to where you thought the door was and together with other officers were able to get the person out of the burning house.
"Your actions demonstrated extraordinary courage and heroism, and at great risk to your personal safety to save the life of another person."
Sgt. Corey Wagner and officer Lance Eldridge were also recognized Tuesday for their efforts and were presented with the Valorous Conduct award for assisting Edwards in removing Hunter from his home.
"I am extremely proud of all of you guys," Vanatta said. "The fire chief trains and trains and trains us (police officers) not to go into a burning building, but hearing a voice inside they did what I think all of our guys would do."
After the presentation, Patrick's daughter-in-law, Holly Hunter, embraced the officers who pulled Patrick from the home, nearly saving his life.
"I'm so sorry I couldn't do more," Edwards said.
Click here to have the print version of the Craig Daily Press delivered to your home.