Photo Gallery
Art Walk and Taste of Chocolate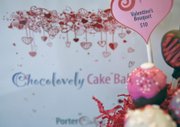 Quotable
"We're thankful to the kids for allowing us to showcase their art. They're so talented and we've been really impressed with the quality of their work and the heart that they put into it."
— Michelle Balleck, Connections 4 Kids coordinator
Results ...
Connections 4 Kids student artist finalists:
(Name — grade — elementary school)
• Caitlin Running, 5, Ridgeview
• Gregory Hixson, 5, Ridgeview
• Caroline Schenck, K, Sunset
• Shaycen King, 1, Sunset
• Jessica Worster, 3, Sandrock
• Alexa Neton, 3, Sunset
• Blake Juergens, 3, Ridgeview
• Celeste Acuña Valenzuela, 1, East
• Ainsley Graham, 3, Sunset
• Jami Viramontes, 4, Ridgeview
• Kimber Roberts, 3, Sandrock
• Hannah Crookston, K, Sandrock
• Hali Reyes, 5, Sunset
— Caitlin's artwork will be featured on the cover of the Connections 4 Kids school year calendar distributed in August. Other finalists will have their art featured each month.
Connections 4 Kids student artist runners-up
• Maddie Coutts, 4, Sandrock
• Delilah Perez, 2, Sandrock
• Naomi Walton Quezada, K, Sandrock
• Maria Rodriguez Perez, 2, Sandrock
• Lexi Weber, 4, East
• Fernando Gonzales, 2, Sunset
• Tiffany Hildebrandt, 5, Sandrock
—Runners-up will have their work displayed in the calendar as well, in a tiled fashion.
It was an event with a little bit of everything.
Nice weather, homemade treats from 16 local chocolatiers, music, food, friends, and of course, the artistic displays of 21 of Craig's most talented painters, potters, quilters, and photographers.
The 17th annual Art Walk and sixth annual Taste of Chocolate sponsored by the Downtown Business Association and Colorado Northwestern Community College went smoothly, organizers said.
Jan Gerber, assistant director of the Museum of Northwest Colorado, and her staff kept track of attendance. On Sunday, she reported 539 people took part in the combined event.
"That's almost as high as when the event first started," Gerber said. "It was a good night."
The museum was one of 19 downtown businesses to host an artist and/or chocolatier Saturday night.
The Cherish the Little Thing art show at The Center of Craig was also a popular destination for visitors.
Sponsored by Connections 4 Kids early childhood council, the youth art show featured 210 pieces by 175 artists in preschool through high school.
Michelle Balleck, Connections 4 Kids coordinator, said this year was the first time the organization arranged an art show for local children.
"We worked closely with art teachers through the Moffat County School District and we are really thankful for their help," Balleck said. "They were instrumental in getting this set up."
As part of the show, coordinators came up with an interesting way to raise funds for Connections 4 Kids programs, while also featuring some of the best works on display.
Twenty finalists were chosen to have their work matted and framed.
The public was then allowed to vote on favorites by depositing money into each piece's respective donation jar.
The top 13 artists would not only help drive funds for valuable Connections 4 Kids programs, but also be featured in the organization's annual school year calendar.
"We're thankful to the kids for allowing us to showcase their art," Balleck said. "They're so talented and we've been really impressed with the quality of their work, and the heart that they put into it.
"I think the community has been really impressed, too."
The event raised $8,058.83 for Connections 4 Kids, Balleck said.
In addition to voting for the top 13 pieces by student artists, Art Walk patrons could also vote on their favorite adult artist and chocolatier.
Kandee Dildine, an Art Walk organizer, said winners would be announced today.
Click here to have the print version of the Craig Daily Press delivered to your home.