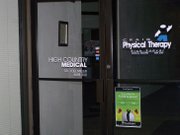 Quotable
"Doris Gunderson is of the opinion that I am an alcoholic having a midlife crisis. Doris Gunderson isn't doing her job. She's rubber stamping this treatment idea, no questions asked, to cover her own ass."
— Dr. Joel Miller, operator of High Country Medical in Craig, about the recent suspension of his medical license and his decision not to enter into an alcohol abuse assessment.
Dr. Joel Miller may not be able to practice medicine legally, but that hasn't stopped him from opening the doors of High Country Medical at 535 Yampa Ave. in Craig.
The Colorado Board of Medical Examiners on Tuesday suspended the 54-year-old Hayden resident's medical license.
The CBME issued the decision citing concerns about an alleged alcohol abuse problem and Miller's ability to practice medicine with reasonable skill and safety to his patients.
CBME officials launched an inquiry of Miller last month following his arrest at his home in Hayden for obstructing a police officer and resisting arrest, both misdemeanors.
Miller said Thursday he believes the CBME inquiry was prompted by a July 7 Daily Press article about the incident that also referenced the doctor's checkered criminal past.
"It was the checkered past article," Miller said. "They (the CBME) didn't know anything about it until someone forwarded them the article."
Following a preliminary review of the case, CBME officials ordered July 12 Miller to undergo an initial evaluation by the Colorado Physician Health Program, according to the CBME report.
CPHP is a program for doctors struggling with drug and alcohol abuse, Miller said.
Miller met with CPHP director Dr. Doris Gunderson July 17.
Gunderson later recommended to the CBME that Miller check into a Kansas treatment facility at his own time and expense to assess the significance of his alcohol use.
Miller has decided not to comply with Gunderson's recommendation, which influenced the CBME's decision to suspend his license Tuesday.
The suspension remains in effect until Miller completes an alcohol abuse evaluation in a non-Colorado treatment facility, the decision stated.
Miller on Thursday discussed the CBME ruling and explained, from the waiting room at his office, why he would not enroll himself in a substance abuse assessment program.
"Doris Gunderson is of the opinion that I am an alcoholic having a midlife crisis," Miller said. "Doris Gunderson isn't doing her job. She's rubber stamping this treatment idea, no questions asked, to cover her own ass."
Miller openly admits to drinking alcohol, but disagrees with Gunderson's accusation that he is an alcoholic.
Miller's also not going to subject himself to an alcohol assessment program because he has no prior history of abuse, the local doctor said.
"You go to see a surgeon to have surgery," Miller said. "People go to treatment for a diagnosis and I don't need one."
Rather than go to treatment Miller is taking his case before the CBME board at 8 a.m. Sept. 6.
He's currently circulating a petition and said he has already garnered "hundreds" of signatures from his more than 3,000 patients.
A Friends of Dr. Miller Facebook page also has been created.
Miller paused numerous times Thursday to talk to and accept well wishes from some of his faithful supporters, many of whom also pledged to write letters of support to the CBME on his behalf.
Shawn West, one of Miller's patients and a Craig resident for more than 45 years, was one of the many locals who checked in on the doctor Thursday.
"This guy saved my life," West said. "If it wasn't for Dr. Miller and his staff, I'd be dead."
West preferred to keep the nature of his medical history private, but said there was a time in his life when he was "extraordinarily ill."
He and Miller remembered an occasion when West literally crawled into High Country Medical for treatment because he was too weak to stand on his own.
"I could come into the office anytime day or night, and Dr. Miller and his staff would take care of me," West said. "If I was too ill to come down here they would come to my house. I've never been treated like that before and I owe my life to Dr. Miller."
But it's not just because of patients like West that Miller has decided to appeal the CBME decision.
It's also a matter of principle.
"I'd like to practice another 20 years and I don't want to carry something like that (an alcohol evaluation) with me if I don't deserve it," Miller said. "If I close up then I've given up."
Tuesday's CBME decision is the latest in a string of legal and professional actions taken against Miller during the last several months.
In April Drug Enforcement Administration agents seized an undisclosed number of patient records from Miller's High Country Medical office.
Jeff Dorschner, a spokesman for the U.S. Attorney's Office in the District of Colorado, said Wednesday formal charges have not yet been filed because the DEA's investigation of Miller is ongoing.
Then in July Miller was arrested at his home in Hayden for obstructing a peace officer and resisting arrest, both misdemeanors.
Formal charges have been filed in Routt County Court and a jury trial is scheduled for Oct. 26, according to court documents.
Miller had little to say about the pending trial and potential federal charges, shrugging off both as non-issues.
"I don't know how I inherited all of this ill-will, but I did," Miller said. "I think it boils down to everyone just getting a little out of hand."
Miller chalked the Hayden incident up to a misunderstanding and believes if the DEA had a case against him charges would already have been filed.
In the meantime Miller said he plans to focus on his September hearing before the CBME.
"I'm going to come into the office everyday, be a cheerleader, chat people up and keep the faith," Miller said. "At the end of the day I'm just like everybody else — no more, no less."
Click here to have the print version of the Craig Daily Press delivered to your home.