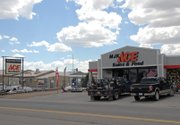 Quotable
"This has been a family project since day one. It's been cussed and discussed numerous times, but with it being a family business it's important to all of us to work on it together."
— Blaine Kawcak about his family's decision to move MJK Sales & Feed Ace Hardware to a larger location on west First St in Craig.
Some say the people of Craig are tied to this town by a boomerang effect.
An almost supernatural phenomenon that first encourages young people to leave home, explore and chart their own paths.
But as powerful the urge may be to experience a world beyond northwest Colorado's boundaries, so too is the desire to one day return, settle down or join the family business.
Blaine Kawcak, 27, is one of many Craig natives who appears to be following that familiar story line.
Shortly after graduating from Moffat County High School in 2004, Blaine pointed his pick-up truck east toward Curtis, Neb., where he earned two associates degrees from the Nebraska College of Technical Agriculture — one in agricultural business, the other in agricultural production.
But he didn't stay away from home long, choosing to return at the age of 22 to stake his claim in the family business at MJK Sales & Feed Ace Hardware, 290 Ranney St.
Now, five years after coming full circle, Blaine is eager to embark on his next adventure.
But this time the compass points west, the distance is considerably shorter and his parents, Lonnie and Lorraine, are along for the ride.
"We've outgrown where we are now and this is kind of the next journey for the business," Blaine said. "Craig is kind of moving west and we're moving that way with it."
MJK has been a Craig mainstay going on three generations.
Blaine's grandfather, Michael John Kawcak, started it as a livestock supply business in 1976 on School St.
Two years later he bought the grain elevator on Ranney and built the adjacent hardware store from the ground up. The lumber operation came many years later.
Earlier this month the Kawcak family embarked on the next evolution of the business, breaking ground on a 25,500-square foot structure near west First St. and Colorado Highway 13 that will soon house MJK's hardware operation.
At almost double the size of MJK's current hardware store, some might call this a legacy project, or Lonnie and Lorraine's way of passing on the torch.
But Blaine insists otherwise.
Not only doesn't he believe his parents will ever fully retire, Blaine's brother, Blake, 24, also has been instrumental in the business expansion despite a move in April to Gillette, Wyo., to work for an oil field company.
"This has been a family project since day one," Blaine said. "It's been cussed and discussed numerous times, but with it being a family business it's important to all of us to work on it together."
Among one of those points of mild family contention was the decision to complete the expansion project in phases.
Though the new hardware store will provide the Kawcak's with the opportunity to carry more products, the feed and lumber portions of the business will remain at the Ranney location until a second building can be constructed on First St. in the next year or two.
"We really talked hard about moving the whole operation in one push rather than maintaining two locations," Blaine said. "But to me having two locations is a good thing because it's going to give us a chance to expand our lumber operation" (before the second phase of the project starts).
As of Friday, construction crews already had laid the foundation, run utilities and built the main frame of the new hardware store.
Blaine said the family hopes to be moved in and open by Thanksgiving.
"It's feels good to finally see all of the construction under way and the building going up," he said. "We're excited about. It's been a long time coming."
Click here to have the print version of the Craig Daily Press delivered to your home.