Photo Gallery
2012 Moffat County Fair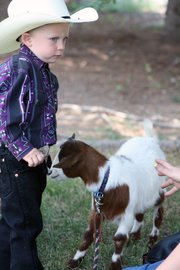 Grand champions …
The following is a list of grand champions recognized during Saturday night's 4-H/Future Farmers of America award ceremony during the Moffat County Fair:
• Call Camblin — market beef
• Darren McLaughlin — market sheep
• Samantha Pearce — market poultry
• Gage Kawcak — market swine
• Andrea Maneotis — market goat
Quotable
"There were a lot of impressive moments with kids at this year's fair that were very special. I was extremely proud."
—J.D. Sexton, Moffat County Extension and 4-H youth agent, about the 2012 Moffat County Fair
J.D. Sexton's said his first Moffat County Fair as county extension and 4-H youth agent was a rousing success.
"The fair was exceptional this year," said Sexton, whose duties include coordinating area 4-H programs. "The biggest highlight for me was how hard the kids worked, the quality kids that we have, and all the volunteers and all the time they put in to make this happen."
Though pen requests and animal entries were due July 15, the fair kicked off in earnest late last month at the Moffat County Fairgrounds, with shooting competitions and general projects occupying the early part of the schedule, among other events.

Horse and dog shows took center stage during the first week of August, and livestock showing and judging highlighted the later part of last week, which also included live entertainment and games on the fair's midway.
It all led up to a Saturday full of festivities, starting with a slate of home food and family oriented contests, a community barbecue, and 4-H/Future Farmers of America awards and livestock sale.
A community dance capped the day and served as an unofficial end to the fair, even though an antique tractor pull took place Sunday and a carcass contest is slated for Thursday.
While balancing so many different events can be challenging, fair coordinator Carol Haskins and Moffat County Extension office assistant Carol Whitehead said this year's fair went smooth.
"I think it's gone awesome," Whitehead said. "It's been very good this year. It's been fun." "The entertainment's been good, the music's been good," said Haskins, who added that estimating attendance was hard due to a new layout.
"We had a good amount of vendors, good sponsors. We thank the community for supporting us, that's the main thing."
For many involved in the fair, like Sexton, the annual event is about supporting and recognizing the achievements of local youths.
"There were a lot of impressive moments with kids at this year's fair that were very special," said Sexton. "I was extremely proud."
One of the many local youths who had one such moment was Samantha Pearce, who was crowned grand champion in the market poultry class and reserve champion in poultry showmanship.
Making the market ribbon even more impressive is that it comes in Pearce's first year participating in the class.
"I've done showmanship for four years, but this is my first time in market," said Pierce, who is a 4-H member.
Other grand champions announced during Saturday's award ceremony included Call Camblin, market beef; Darren McLaughlin, market sheep; Gage Kawcak, market swine; and Andrea Maneotis, market goat.
Winning a ribbon wasn't the only path to a successful fair, however.
Thirteen-year-old Tatam Hickman showed two pigs at the fair, and as of Saturday had already sold one and had plans to do the same with the other.
"I'm selling this one and she is 242 pounds," said Hickman, who was in her second year showing pigs, about her remaining pig, Ore. "My favorite part (of the fair) was probably showing my pigs."
For Janet Willshire, whose family has participated in eight county fairs, the event has become something to look forward to. "It's been great," she said. "The fair is always a lot of fun."
This year, Janet's 16-year-old daughter, Breanne, a 4-H member, raised market beef to show at the fair, a process that started back in November 2011.
"I thought my daughter did really well in market beef showmanship," Janet said of Breanne's fifth-place finish. "She hasn't done beef in a few years so we didn't know how it would go, but she stepped right in there and did well."
Pearce, Hickman and Janet Willshire all said they were looking forward to participating in next year's fair.
From an administrative perspective, Sexton said planning for next year's event includes trying to retain all the successful elements from this year.
"We need to keep all the good things in terms of the quality people that we have and, particularly (Saturday) night, with the quality buyers," he said. "The donations that the community makes towards the junior livestock sale are huge."
Haskins said she hopes to bring back the quality entertainment attendees were treated to this year, particularly the WOWBubbles attraction — where participants walked on water inside an inflated plastic bubble — as well as the rock climbing and kayaking attractions provided by Avid4Adventure.
"The outside activities were different this year, we had water activities," she said. "I think they were big hits." Pearce agreed. "I liked the bubbles," she said.
Whatever the lineup may consist of, Haskins hopes next year's fair receives the same community support this year's did.
"Come back next year," she said, smiling.
Click here to have the print version of the Craig Daily Press delivered to your home.