Photo Gallery
Craig native Jacque Archuleta revisits Century Aurora 16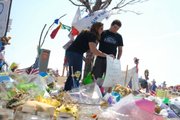 Victims of the Aurora theater shooting
Quotable
"I remember sitting on the floor bracing myself for impact, thinking, 'This is it.' You're just waiting for that bullet to come hit you. It was, 'Well, this is how I'm going to die.'"
— Jacque Archuleta, a Craig native and Englewood resident, about being in theater 9 on July 20 in Aurora during one of the worst shootings in U.S. history
Support for a victim:
More than 50 people posted messages on Jacque Archuleta's Facebook page in the days following the July 20 theater shooting in Aurora, including several Craig and Moffat County residents.
Some of those posts, edited for spelling and grammar, are below:
"My thoughts and prayers go out to the families in Aurora. I am so happy you made it out safely, but am deeply saddened that you had to experience a situation like that."
— Brandon Shipman, Craig
"Watching Batman will never be the same. Praying for those families affected by the (shooting) incident in Aurora. And I'm so glad you are OK, Jacque."
— Karen Bolton, Craig
"I just saw you were involved in that tragedy that occurred last night. I am keeping you in my thoughts and prayers. I don't know what you are going through right now, but I know it must be very hard. Please let me know if you need anything."
— Camie Slaight, Craig
"Praying for all the families affected by the shootings last night. And thankful that the Lord had my cousins in his arms and kept them safe."
— Chelle Chacon, Monte Vista
"Praying for my sweet friend, Jacque Archuleta, and all the other people affected by the tragedy in the theater in Colorado."
— Katie Harris, Griffin, Ga.
"I am so thankful that my friend, Jacque Archuleta, who was in theater 9, was not injured in the Aurora shooting last night. There are angels among you, sweetie. It saddens me to think someone can just do this so randomly without any conscience. My heart goes out to the people that were effected by this."
— Angi Currier Hinkle
"Praying for you and Alex. I'm so glad you're OK, but so deeply sorry you had to witness something so horrible."
— Melanie Warne Bebensee
"Enjoying the day with my wonderful family. I survived for a reason and taking full advantage of every moment" with Jacque Archuleta, Amy Cook, Alex Espinoza and Karen Gomez.
— Becky Gomez, Aurora
She went to district court July 30 in Centennial to get a better look at the shadowy figure she and her friends escaped just 10 days before.
A survivor of the man's rampage, she laid eyes on the 24-year-old with dyed hair and dazed expressions.
She felt neither anger nor hatred.
"I felt pity for him," said Jacque Archuleta, a Craig native and Englewood resident. "Here's this educated man and he's going to spend the rest of his life in jail or lose his life because he made this horrible, horrible decision.
"I didn't feel fear because he has no control over this situation. He has no more control over his life anymore. … The only control he had that night was because he had a gun … and anyone can do that."
Circumstances put Jacque, 24, four of her friends and hundreds of others in theater 9 on July 20 at the Century Aurora 16 multiplex with the gunman — she prefers his name not be used — during a midnight screening of "The Dark Knight Rises," one of the summer's biggest films.
With the movie playing in the background, the gunman fired into the crowd, killing 12 people and injuring 58 others in one of the worst shootings in U.S. history.
He is charged with 142 criminal counts, including 24 counts of first-degree murder.
With chaos erupting around them, Jacque huddled on the floor with her boyfriend, Alex Espinoza, 23, and her friends in the back of the theater.
She believed the gunman was coming for them.
"I remember sitting on the floor bracing myself for impact, thinking, 'This is it,'" she said. "You're just waiting for that bullet to come hit you. It was, 'Well, this is how I'm going to die.'
"We all had a bullet with our name on it."
…
Jacque, a 2005 Moffat County High School graduate and former student body president at Colorado Northwestern Community College in Craig, remembers the shooting in fragments.
It plays in her head, she said, almost like a movie reel, fittingly enough, the events blurred somewhere between reality and disbelief.
She and Alex had anticipated the third Christopher Nolan-helmed "Batman" installment for months.
Alamosa residents at the time, they were planning to move closer to family and friends in the Denver area, and had made the trip to look for places to live and job opportunities.
A midnight premiere of the movie sounded fun, she said, a perk of being in the big city. Alex's cousin, Becky Gomez, aunt Karen Gomez, and Karen's wife, Amy Cook, joined them.
They were seated three rows from the top in theater 9.
Before the movie, the crowd inside was rowdy, the environment raucous, adding to the confusion when the festivities broke and the gunman began his assault.
There was a popping sound, Jacque said, like the kind a soda can makes.
There was a hiss and smoke pouring into lower rows.
There was more popping, like firecrackers, and people running from the noise and commotion.
Then there was Alex shouting:
"Jacque, get down."
"I think (the gunman) was just shooting anywhere and everywhere, at just anything with movement," she said.
"Of our group, I was the one panicking the most. … I don't know what would have happened if Alex didn't react as quickly as he did."
The group escaped the theater physically unharmed.
For this, Jacque said she's eternally grateful.
Not everyone was lucky, though.
Exiting the theater, Jacque said, meant stepping over a body.
In the parking lot outside, a boy between 10 and 12 followed them to their car.
He was covered in blood. His 16-year-old friend had been shot in the head.
"He had followed us," Jacque said. "He asked, 'Can I get a ride home? My friend got shot.'"
Though no one in her group was hurt, she believes there will be a psychological price for being in the theater.
A 2011 Adams State University graduate, Jacque has a bachelor's degree in psychology.
She believes she and her friends have shown symptoms of post-traumatic stress disorder in recent weeks.
Cabinet doors closing sound like gun shots. Police sirens and lights are reminders of first responders. Nightmares of the shooting end with deadlier outcomes.
Still, Jacque said the enormity of what they went through hasn't fully registered.
"We're at three weeks now and it hasn't happened yet," she said. "I'm kind of scared for when it does. … You just never know what you're going to feel."
…
Jacob Archuleta, 14, will be a freshman this fall at Moffat County High School. He's the youngest child of Craig residents Frank and Connie Archuleta.
On July 19, hours before the shooting, Jacob said his prayers before bed. Only this time, he prayed specifically for his God to "watch over" older sister Jacque and older brother Frank III.
"I have no clue," said Jacob, when asked why he tailored his prayer to his siblings. "I just had a strong feeling to say it and I didn't really even think about it."
The significance of Jacob's request isn't lost on Jacque.
"Thank you so much, Jacob, for praying for our safety last night before you went to bed," she posted on her Facebook page July 20, hours after the shooting. "If it weren't for those prayers, I could have been one of those individuals (who) died in the movie theater last night.
"It was such a scary experience, and we truly had angels watching over our family."
Frank and Connie learned Jacque was in the Aurora theater early July 20. They went to the Front Range the following day to be with her and her friends.
They found a group of people who had bonded through tragedy.
"They were a support group of their own," Connie said.
"Whatever we were going to do with Jacque, we were going to do with all of them," Frank said.
One of the things the group wanted to do? See "The Dark Knight Rises."
It was the group's decision to not let fear dictate how they'd live, Jacque said.
"Our thought was, we're not going to let (the gunman) win," she said.
Frank and Connie have strong feelings about what should happen to the gunman should he be found guilty of charges. Both said the death penalty would be appropriate considering the lives lost, people injured and harm inflicted on families.
"To see your daughter go through an experience like that is very difficult," Frank said.
"You feel so much as a parent when someone does something that drastic," Connie added.
Jacque isn't as sure as her parents about his fate, other than one aspect.
She's attended each of the gunman's court hearings thus far, including an appearance Thursday, and vows to be at each of them moving forward.
"It's hard," she said. "I go back and forth. Sometimes I want him to rot in jail for the rest of his life, but then I hear the hurt and anger in the voice of someone who lost their (loved one) and I think it should be more.
"I don't like to use his name, and I don't think people should. I don't want him to have the satisfaction of being remembered for this."
…
Jacque and Alex returned to the theater scene Friday morning, wearing the same Colorado Rockies T-shirts they did the morning of the shooting.
Memorials to the victims stand near the scene today, along with signs meant to blunt some of the hard edges of the tragedy.
"Angels walk with those who grieve," reads one of them.
"Aurora still stands," reads another.
"Aurora's wind farm," reads one more, the sign nestled inside a group of colorful pinwheels in memory of the dead and wounded. "Generating peace and love."
It wasn't the first time the couple returned, and it's unlikely to be the last.
Jacque said a saving grace to the shooting was that the damage could have been worse, the lists of victims longer, that there could have been "a lot more than 12 crosses here."
"It's amazing to see so many people still visiting this site and how much it has grown since the shooting," she said. "You would think after three weeks people would begin moving on with their lives, but people are hard to forget this.
"The outpouring of support from the community, the country and all over the world is amazing to see."
Click here to have the print version of the Craig Daily Press delivered to your home.