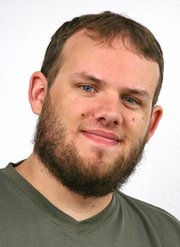 Weekend movie show times
West Theatre
29 E. Victory Way
824-2000
"The Three Stooges" — Rated PG; 7 and 9:05 p.m. Friday and Saturday, 4 and 7 p.m. Sunday
"Mirror Mirror" — Rated PG; 7 and 9:05 p.m. Friday and Saturday, 4 and 7 p.m. Sunday
Tickets: $7 for ages 10 and older, $5 for ages 9 and younger; $9 and $7 for 3D features
Sunday matinee: $5 for ages 10 and older, $4 for ages 9 and younger; $7 and $6 for 3D
Submit your event
Submit your event's details for consideration by emailing them to editor@craigdaily... or calling 875-1791.
It only comes but once or twice a year, but Friday the 13th is upon us once again. If you're the superstitious type, that might cast a pallor over the weekend for you, but you don't need to rely on luck to enjoy some of the stuff going on the next few days.
• If there's one thing for which you'd want to stock up on horseshoes and rabbit's feet, this will probably be it.
The annual putt-putt contest among the bars of Craig starts at noon Saturday. Teams of up to four golfers will make their way around from Mathers' Club to The Popular Bar to J.W. Snack's Bar and Grill for a total of nine holes.
The cost is $20 per team to putt around, and you can take home quite a few prizes without any hassles of raking the sand trap or replacing divots.
For more information, call 824-9946, 824-6234 or 826-0468.
• Take some time to provide the kids of the community with the gift of literature.
Friday is the last chance to donate children's books to the Friends of Moffat County Education's 13-3 Book Project. The group can use all it can get to reach its goal of 13,000 books.
You drop off books at East Elementary School, 600 Texas Ave; Ridgeview Elementary School, 600 Westridge Road; Sandrock Elementary School, 201 E. Ninth St.; Sunset Elementary School, 800 W. Seventh St.; Craig Middle School, 915 Yampa Ave.; or Moffat County High School, 900 Finley Lane.
Likewise, you can send cash donations to Friends of Moffat County Education, PO Box 985, Craig, Colo., 81626.
• Speaking of emphasizing the three R's of education, this next gathering is for those looking to get a better picture of the schools of Northwest Colorado.
The Moffat County School Board's board retreat runs from 8:30 a.m. to 1 p.m. Friday in room 255 at Colorado Northwestern Community College's Craig campus, 2801 W. Ninth St.
Any member of the public is welcome to attend as the board discusses its mission and vision, overall district planning, and developing district policy.
For more information, call 824-3268.
• Unwind after the week's stresses with a bit of music.
The Dakota Country Band takes the stage at 9 p.m. Friday and Saturday at the Sports Page Bar of Holiday Inn, 300 S. Colorado Highway 13. There's no cover charge to come in and soak up some tunes, plus you can partake in plentiful drink specials.
For more information, call 824-4000.
• West Theatre brings in movies tailored to both men and women with "The Three Stooges" and "Mirror Mirror." Guys who enjoy fairy tales and girls who can appreciate a good pratfall will be doubly happy.
New DVDs up for sale this week are "Sleeping Beauty," "Into the Abyss" and the documentary "Miss Representation." If you're willing to splurge, invest in the coffin box set "Dark Shadows: The Complete Original Series," a precursor to the Tim Burton and Johnny Depp movie remake coming out this summer.
Redbox brings in Meryl Streep's depiction of Margaret Thatcher in "The Iron Lady," as well as the story of invisible alien invaders in "The Darkest Hour" and a writer's journey to make his voice heard in "Street Poet."
Westerns are hard to come by these days, but if that's your favorite genre, rent "Goodnight for Justice: The Measure of a Man" to see Luke Perry riding tall in the saddle.
Click here to have the print version of the Craig Daily Press delivered to your home.