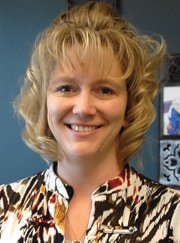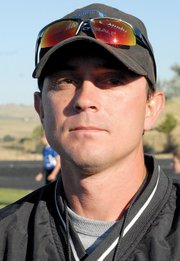 Meet the Yoasts
Ages: Deb, 46/Norm, 47
Occupations: Deb, eighth-grade math teacher at Craig Middle School/Norm, eighth-grade science teacher, seventh- and eighth-grade gifted and talented program teacher at Craig Middle School
— Deb and Norm have been married since 1991. They have two children, Lindsey, 20, and Colten, 15.
Meet the Hafeys
Ages: Jill, 37/Kip, 39
Occupations: Jill, Craig Middle School assistant principal/Kip, Moffat County High School health teacher and MCHS head football coach
— Jill and Kip have been married since 1993. They have four children, Kaden, 12; Ethan and Logan, 8; and Ian, 6.
Quotable
"But for our marriage, because we do get along so well and we have a lot of the same … common ideas and beliefs and values, I just think it makes our relationship even stronger."
— Deb Yoast, Craig Middle School math teacher, about teaching at CMS with her husband, Norm
Norm Yoast is a science teacher to the core.
Abbreviations from the periodic table of elements take the place of numbers on the clock in his eighth-grade classroom at Craig Middle School, and a picture of a wild-haired Doc Brown from "Back to the Future" hangs near the door.
It's only a few steps away from his door to the eighth-grade math teacher's classroom.
That teacher happens to be his wife, Deb Yoast.
The Yoasts taught together at CMS for more than 15 years, and they also share coaching duties on the school's track team.
They, like several other couples in the Moffat County School District, share a love of teaching, as well as a home and family.
Their courtship began while they were both in the classroom. They met at Moffat County High School, where Norm was a student teacher and Deb was in the first year of her education career, and they married in 1991.
"Well, why'd you marry the math teacher?" Deb asked Norm with a smile on her face.
"Because I didn't want to balance the checkbook," he quipped.
They're passionate about their jobs, which is evident from the "kind of everyday teaching stuff" that made for topics of conversation after work, Deb said.
When Norm and Deb taught on the same team together, "We would talk a lot about how to get certain kids to achieve better for us … academically and behaviorally," Deb said.
When they're not at work, they devote their time to their daughter, Lindsey, 20, a sophomore at Western State College, and their son, Colten, 15, an MCHS sophomore.
For some couples, being together both on and off the clock would be less than ideal, Deb said.
"But for our marriage, because we do get along so well and we have a lot of the same … common ideas and beliefs and values, I just think it makes our relationship even stronger," she said.
As to why they chose to stay in teaching, their answer is the same.
"The kids," Norm and Deb said simultaneously.
They're not alone in their reasoning for sticking with public education after all these years.
Kip Hafey and his wife, Jill, both MCHS graduates, became educators for the same reason.
"I think both of us have been just really driven to help kids," Kip said. "That's why both of us wanted to be teachers."
Kip teaches health at MCHS and also is the head coach for the Bulldogs football team, while Jill is the CMS assistant principal.
In Kip's view, their different roles in the school district give them fresh perspectives on their work.
"I get to see it from the side of the administrator ... and then (Jill) can see it from the teacher's viewpoint, as well," he said.
But they also have shared experiences working with students on a daily basis that allows them to "pull off each other's ideas," Jill said.
For the Hafeys, working in the same school district doesn't always equate to a shared schedule.
Meetings, coaching obligations and Jill's shortened summer vacation — as an administrator, she gets only four weeks off — requires some juggling, Kip said.
The time the couple does have together is devoted to their family, he said, which includes their four children: Kaden, 12; twins Ethan and Logan, 8; and Ian, 6.
Knowing that their children attend Moffat County schools gives the Hafeys an added incentive to make a difference in the workplace.
"It's just extra motivation knowing that my own kids are going to be in the district, so I want to help make it the best that I can," Kip said.
Yet, in their eyes, a career in education also is a reward in itself.
"We just love our jobs," Jill said.
Click here to have the print version of the Craig Daily Press delivered to your home.