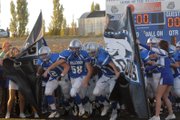 Box score
Box score from the Moffat County High School varsity football game Friday against Delta High School at MCHS:
(1st — 2nd — 3rd — 4th — final)
• MCHS: 0 — 14 — 0 — 8 — 22
• Delta: 0 — 3 — 11 — 0 — 14
Scoring summary
First quarter
• None
Second quarter
• Moffat County — Bubba Ivers 35-yard touchdown run — 7-0
• Moffat County — Bubba Ivers 1-yard touchdown — 14-0
• Delta — Miguel Sanchez 35-yard field goal — 14-3
Third quarter
• Delta — Miguel Sanchez 31-yard field goal — 14-6
• Delta — Alex Standish 34-yard touchdown run/two-point conversion — 14-4
Fourth quarter
• Moffat County — Michael Samuelson 36-yard touchdown run/missed extra point — 20-14
• Moffat County — Delta's Mitchel Whiteside intentional grounding in the end zone; safety — 22-14
As a Delta High School receiver went up for a pass Friday at Moffat County High School, Jarret Walt kept his eye on his opponent and leveled him to force an incomplete pass.
Walt's intensity turned the momentum in the MCHS varsity football team's favor and a fourth quarter touchdown gave the Bulldogs their first win of the season, 22-14.
After two back-to-back lackluster performances from the MCHS defense, Walt, a MCHS junior linebacker and tight end, said everyone knew it was time to step up.
"Our secondary played great and didn't allow the deep pass and we were able to deflect a lot of passes as well," he said. "Shutting down their pass game made them have to run, and we didn't allow that either."
The Bulldogs (1-3 overall, 1-0 Western Slope League) had allowed over 600 passing yards in their last two games.
The defense started great, allowing only one first down in the first quarter and only a field goal in the first half.
Junior quarterback Bubba Ivers had a pair of touchdown runs in the second quarter to give MCHS a 14-3 lead at the break.
However, the Panthers (2-2 overall, 0-1 WSL) kicked another field goal to start the third quarter and running back Alex Standish scored on a 34-yard touchdown run on their next possession.
A successful two-point conversion tied things up at 14-14.
Then, Walt got into a scuffle with a Delta player, drawing an unsportsmanlike conduct in the process.
"I wasn't thinking straight and I got worked up, so I thought I owed it to my team to step up," he said. "If I didn't pick things up, I would have thought it was my fault if we lost."
Walt's forced incomplete pass came on Delta's next possession and forced the first Panthers' punt since the second quarter.
A few minutes later, MCHS junior Michael Samuelson busted loose on a 36-yard touchdown run to give the Bulldogs a 20-14 lead.
Late in the game, Delta's quarterback, Mitchel Whiteside, was called for intentional grounding in the end zone, resulting in a safety for MCHS, extending their lead to 22-14.
"It feels amazing to get our first win," Walt said after the game. "Because we have had three losses, this feels better than a normal win. Our overall record may not look good at 1-3, but we are 1-0 in league play and it feels good."
Head coach Kip Hafey said the Bulldogs' pass defense was "100 times better" than they had been in the team's three prior losses.
"You could tell they had watched our game film because they attacked our corners and tried the deep ball, but they didn't get any past us," he said. "The kids played with a lot of emotion after an intense week of practice. We went back to the basics and fundamentals to win this game and the guys played a good game."
Offensively, the Bulldogs were without three of their five starting linemen. During Friday's game, another lineman went down with an injury.
"The younger guys stepped up and did their jobs," Hafey said of the linemen who filled in. "Our offense got points when we needed them and that was huge against (Delta)."
The Bulldogs head to league-leading Palisade High School on Oct. 1, but Hafey said it is just nice to get the first win out of the way.
"I am really happy for the kids because it was a hard fought battle and they played hard," he said. "It is good to have momentum and we have that by opening league play with a win.
"It was a good night for the 'Dogs."
Click here to have the print version of the Craig Daily Press delivered to your home.