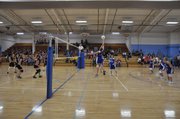 Craig Middle School volleyball weekend results:
Eighth-grade A-Team
Opponent Score Win/Loss
Meeker 2-1 Win
Baggs 2-0 Loss
Season record: 3-2
Eighth-grade B-Team
Opponent Score Win/Loss
Meeker 2-1 Win
Season record: 3-0
Seventh-grade A-Team
Opponent Score Win/Loss
Meeker 2-1 Loss
Baggs 2-1 Win
Season record: 4-1
Seventh-grade B-Team
Opponent Score Win/Loss
Meeker 2-0 Win
Baggs 2-1 Loss
Season record: 1-4
In 2010, Michelle Henderson was entering her first year as a coach for Craig Middle School's seventh-grade volleyball team. By the end of the season, she and her team had a district championship title to their names.
Now, as eighth-graders, Henderson's players are looking to repeat that feat.
The eighth-grade A-team experienced both victory and defeat in its weekend games, beating Meeker, 2-1, on Friday night, before being swept 2-0 in a Saturday morning game in Baggs, Wyo.
Meeker proved to be a tough match for the Bulldogs' A-team, with both sides winning each set by only two points — 26-24, 27-25, 15-13.
The B-team also pulled ahead, 2-1, with their final set the strongest, winning 15-2.
"Both teams played great," Henderson said Friday night. "Everything they did — bumping and setting and hitting, I continue to have high expectations for them."
Henderson said the lateness of the Meeker game Friday may have attributed to the A-team's loss to Baggs in the early morning Saturday game.
"They were kind of sluggish and just weren't at the top of their game," she said.
The eighth-grade B-team did not play because of a lack of Baggs players. Their season record is 3-0.
The A-team's 3-2 record is no cause for concern for Henderson, who saw her girls come out on top at the end of last season with an 11-2 record at the conclusion of the district tournament.
"They've really progressed this year," she said. "Last year they won it as seventh-graders, so we hope to bring it home as eighth-graders."
A-team player Bekah Bird, who was part of last year's championship team, said she is looking forward to this year's tournament in October. This year's district tournament is hosted by CMS.
"It was probably the happiest game of my life last year," she said. "I think this will be our best year."
Like the older girls, the seventh-grade teams had their own varied results in the weekend's games. The previously undefeated seventh-grade A-team lost to Meeker, 2-1, in a neck and neck tiebreaker, while the B-team won its first game of the season, 2-0.
The next morning, the A-team was back on its feet to beat Baggs, 2-1, while the B-team lost, 2-1, ending the weekend with 4-1 and 1-4 records, respectively.
Seventh-grade coach Cristy Simpson said both teams have shown great potential.
"Some girls have never touched the ball before, and they're going in and putting it all together and winning games," she said. "We've got a good offense set up, and my A girls especially are already at the next level."
Seventh-grader Alex Hamilton is one of the A-team's strongest players. She attributed Simpson's coaching prowess to the team's success.
"She's a great coach and she works us hard," she said.
The seventh- and eighth-grade volleyball teams will next play Tuesday in Oak Creek and Saturday in Rangely.
Henderson said she hopes her A-team shakes off the Baggs loss during today's practice.
"Hopefully, we all come back energized and ready to focus," she said.
Click here to have the print version of the Craig Daily Press delivered to your home.