If you go...
What: 2011 Craig Sheep Wagon Days
When: 8 a.m. to 4 p.m. today, 10 a.m. to 4 p.m. Saturday, 10 a.m. to 2 p.m. Sunday
Where: Wyman Museum, 94350 E. U.S. Highway 40
Cost: Free
— The festival includes saddle making and leatherworking demonstrations, a petting zoo, sheep wagon tours and antique tractor pulls.
Photo Gallery
Craig Sheep Wagon Days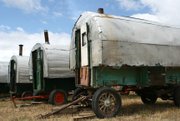 Seven-year-old Annalee Goodwin knew exactly where her butter came from.
She made it Thursday afternoon at Wyman Museum, where she and other Sandrock Elementary School second-graders got a sneak peek of the annual Sheep Wagon Days.
"You had to shake it until it turned into a hard lump," she said, referring to the creamy butter in a small, plastic container she was holding.
The general public will have a chance to explore Sheep Wagon Days today through Sunday at the museum, located at 94350 E. U.S. Highway 40.
A variety of events are scheduled throughout the weekend, including sheep wagon tours, draft horse and wagon demonstrations, and antique tractor pulls.
Food and craft vendors will sell their wares at the festival, and storyboards will be on display that describe the sheep industry.
Sheep Wagon Days is designed to connect residents with the history of the industry in Moffat County, event organizer Melody Villard said.
Sheep ranching is a tradition Villard carries out on a daily basis.
She and her husband are third-generation sheep ranchers, she said. The Villard Ranch, headquartered at the base of Black Mountain, dates back to 1928.
Her family is part of a history that dates back to the early half of the 20th century, when Moffat County was a shipping point for wool and lambs, she said.
But, the focus of Sheep Wagon Days extends beyond sheep and wool. The event also is designed to educate attendees about the agriculture industry as a whole.
"The education of agriculture in general is very important," Villard said.
In a world of 24-hour supermarkets and department stores, it's easy to forget where food and clothing come from. Adults at past Sheep Wagon Days butter making demonstrations didn't realize the butter was made from cream, Villard said.
"I think people get so far removed from agriculture," she said.
The contrast between modern life and the older ways wasn't lost on Robyn Kitchen, who stood nearby Thursday as her son, Thayne, and a group of other students watched a demonstration about mountain men.
"We just take for granted the way we live these days with electricity," said Kitchen, who is also a Moffat County School District speech and language pathologist.
The value of these kinds of experiences, she said, is that students get a hands-on lesson about the past.
"They're not just reading about it in a book or seeing it on worksheets," she said. "They're here, touching, feeling, living it."
Bridget Manley can be reached at 875-1793 or bmanley@craigdailypress.com.
Click here to have the print version of the Craig Daily Press delivered to your home.