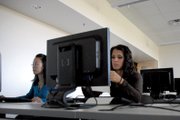 If you go …
What: CNCC College Foundation Roundup Barbecue
When: 11 a.m. to 2 p.m. Saturday
Where: Craig campus parking lot, 2801 W. Ninth St.
Cost: $20 per ticket for an all-you-can-eat meal
— The barbecue is a scholarship fundraiser and includes an auction and music by the Yampa Valley Boys. For more, call Lois at 824-1926.
Quotable
"You come here, you're coming here for a reason."
— Charles Pourier, 20, of Craig, on the new Colorado Northwestern Community College Craig campus.
What difference can about $28.6 million in new construction make at Colorado Northwestern Community College's Craig campus?
To several students, it can go a long way toward improving their educational experience.
Charles Pourier spent two and a half years at CNCC's Craig campus before he went away in the spring to attend Boise Bible College.
When he returned to Craig recently to take some prerequisite classes at CNCC, his surroundings were
completely different.
Now, he and other students can take classes in a 70,000-square-foot academic building. A 14,000-square-foot career technical center is located nearby.
And now, all school programs — even ones traditionally housed off-campus — are located north of Craig, at 2801 W. Ninth St.
In Pourier's view, changes at the college have been for the better.
"I love it," said Pourier, 20, who was born and raised in Craig.
"This kind of gives you more of a university college feel," he said.
"You go to the old campus and it kind of feels like small time … like it's just there."
He gets a different impression from the new site.
"You come here, you're coming here for a reason," he said.
Mark Byrnes, 19, another CNCC student, said he didn't feel the college had any more of a collegiate feel than it did when it was still headquartered at the Bell Tower Building.
Still, the new campus is "loads better," he said.
In his view, the new buildings are important for what they can provide — more classes and staff.
Michele Smith, 38, a first-year nursing student at CNCC, said she is anxious to see what the college will look like once all the landscaping and construction is finished.
Her first reaction to the new campus was positive.
"I thought it was great," she said. "We have a great brand-new lab, so we can do real-time skills … on a lot of up-to-date mannequins."
Gene Bilodeau, Craig campus vice president, has heard similar feedback before.
"The overwhelming response I'm getting from students (about the new campus) is very, very positive," he said.
Before, automotive technology, cosmetology, nursing and mine safety programs were located away from the main campus, and students in those classes didn't have much interaction with other students, Bilodeau said.
Now, the new site houses all campus programs, something both students and faculty have appreciated, he said.
The new college isn't finished yet.
A 4,000-square-foot auto technical shop is slated for completion in December, and a new residence hall is slated to open as early as fall 2012.
If all goes according to schedule, there's a good chance Pourier will still be here when it does.
But, he hasn't decided yet whether he'll be staying in those new dorms.
"Depends on the price," he said.
Bridget Manley can be reached at 875-1793 or bmanley@craigdailypress.com.
Click here to have the print version of the Craig Daily Press delivered to your home.