At a glance …
• Moffat County couple part of team named grand champion Saturday at Colorado Pork and Hops Challenge in Grand Junction.
• Webber's Old West BBQ also won first place in brisket division and second place in pork and ribs.
• Team qualified to compete at 2012 American Royal Barbecue in Kansas City, Mo.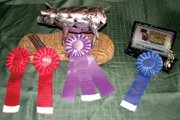 Quotable
"It was a very good feeling (and) kind of validated all the hard work that we've gone through."
— Alan Webber
When award time came around Saturday at the Colorado Pork and Hops Challenge in Grand Junction, Alan Webber had no idea what was coming.
Alan and his wife, Denette, who live north of Craig, had been barbecuing competitively for five years. The couple — along with Alan's brother and sister, Brian and Donna Webber — make up Webber's Old West BBQ, a team that hadn't been able to break into the top 10 at competitions.
Until this year, that is, when it placed in the top 10 at the Colorado State BBQ Championship in Craig.
But, after all the top 10 winners in the chicken division were announced Saturday in Grand Junction and Webber's Old West BBQ wasn't among them, Alan was resigned.
"I thought, 'Here we go again,'" he said.
However, this is where the Webbers hard luck story changes.
When the announcer named winners for the ribs division, their team finished in second place. Then, the Webber team took second place again, this time in pork.
"I was like, 'Are you kidding me?'" Alan said.
And, after the Webbers went up to the front again — this time to receive the award for first-place in the brisket division — other competitors gave them an indication there was more to come.
"When we were leaving, they told us, 'Don't go so far this time,'" Alan said.
It was good advice, because the team was called to the podium once more, this time to claim the coveted grand champion prize.
Denette summed up her reaction in four simple words.
"We finally did it," she said.
Alan's love of grilling comes in part from his father.
"You take anything to him and he could cook it up good on the grill," he said.
But, he attributed this weekend's big win to Myron Mixon, of the TLC series "Pitmasters," and his Jack's Old South Cooking School in Georgia, where Alan and Denette took lessons this summer.
"(Mixon) is like the three-time world champion, so he knows what he's doing," Alan said. "So I decided if I was going to do this, I was going to spend the money and time."
Denette said she also thinks Jack's Old South Cooking School had a hand in their most recent win.
But, she added, teamwork also plays a critical role. Each team member has something to add to entries before they go to the judges.
"It takes all of us — not just cooking, but also prepping," Denette said.
Teamwork is important because, in a barbecue competition, taste is only one component. Saturday's competitors also were judged on the appearance and texture of meat they entered.
That's where the rest of the team came in. While Alan cooked, the other three members did the rest, which included focusing on the entries' presentation.
"You want the meat to look absolutely edible — like you can't wait to take a taste of it," Denette said.
The hours spent prepping, cooking and cutting paid off for Webber's Old West BBQ. In addition to ribbons and a trophy for placing first in the brisket category, they also brought home a hand-crafted grand champion trophy.
The grand champion title secured the Webbers a spot in the 2012 American Royal Barbecue, better known as the "World Series of barbecue," in Kansas City, Mo., Alan said.
It also put them in the running for an invitation to the Jack Daniels World Championship Invitational Barbecue in Lynchburg, Tenn.
But, for Alan, the greatest reward might be the knowledge that the team had finally made its mark in the world of competitive barbecue.
"It was a very good feeling" being named grand champion, he said, adding the win "kind of validated all the hard work that we've gone through."
Click here to have the print version of the Craig Daily Press delivered to your home.