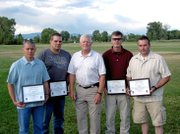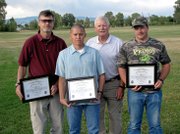 Quotable
"As a team, they performed an extraordinary act of valor exceeding the normal call of duty. At great risk to their own personal safety, they were able to save another human life."
— Craig Police Chief Walt Vanatta on the efforts of Sgt. Brian Soper, Cpl. Bryan Gonzales and officers Lance Eldridge and John Meyers to save the life of a suicidal man who had a gun June 20.
The Craig Police Department recognized all of its employees earlier this month, but cited two veteran officers in particular by giving them the department's most prestigious award.
The police department hosted its annual employee picnic Sept. 1 at Loudy-Simpson Park.
During the luncheon, Sgt. Tony Fandel, who has been with the department for nine years, and Det. Dale Secules, a Craig officer for five years, were named 2010 employees of the year.
"We don't always award co-employees of the year," Craig Police Chief Walt Vanatta said. "But, these two guys got a lot of nominations from officers within the department and I decided they were both worthy because of the great work they did last year."
Fandel and Secules were cited for providing valuable police service within the framework of the department's values of integrity, respect, service and equality, according to a police department news release.
"Tony is a wonderful representation of this department in all ways," Vanatta said. "He deals well with the public, he works hard and remains cool and calm even in the midst of total chaos."
Vanatta said Secules also deserved recognition because of the way he's excelled in a new investigative position.
"Dale came into investigations because he thought he was getting a little too comfortable in patrol," Vanatta said. "He has taken on this position with the determination that you would expect out of an enthusiastic person wanting to succeed."
Vanatta said Secules is not only sincere in the way he interacts with colleagues, but also with the public.
"Dale has a genuine concern, (and) not only for the people he works with, but also for the public beyond the walls of the (Moffat County) Public Safety Center," the police chief said.
"When doing an investigation, Dale will exhaust every resource, put in countless hours, and do whatever it takes to get the investigation done."
Also recognized were Sgt. Brian Soper, Cpl. Bryan Gonzales and officers Lance Eldridge and John Meyers, who were given a unit citation for valorous conduct.
The award, according to the news release, stemmed from a June 20 call in which the law enforcement officers subdued a suicidal Craig man who was armed with a gun. The officers did so, the release reported, by using non-lethal techniques.
"As a team, they performed an extraordinary act of valor exceeding the normal call of duty," Vanatta said. "At great risk to their own personal safety, they were able to save another human life."
Gonzales and Eldridge were also recognized for their participation in a May 12 incident. Officers Travis Adams, Frank Schmedeke and Ryan Fritz also worked the call.
According to the release, the officers responded to a vehicle burglary in progress, and apprehended two individuals and recovered stolen property and drugs.
"As a result of the investigation, three felony menacing, two car burglaries and a residential burglary were cleared," the police chief said.
Vanatta awarded the five officers with the chief's citation award in recognition of the team effort and individual professionalism.
Meyers was also cited at the picnic for his improvement in the area of firearms proficiency and training.
Click here to have the print version of the Craig Daily Press delivered to your home.