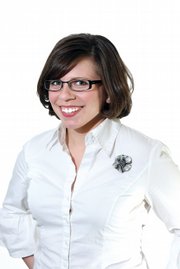 Submit your event
Submit your event's details for consideration by emailing me at mballeck@craigdai... or calling 875-1790.
As reluctant as I am to admit it, fall and the dirty "w" word are just around the corner. But, I am excited to begin enjoying some of my favorite autumn activities and fashions.
■ Party it up in a parking lot.
The third annual Art'n the Park'n Lot is bringing you such fun from 10 a.m. to 5 p.m. Saturday at the parking lot of J.W. Snack's Bar & Grill, corner of Tucker Street and East Victory Way.
There's a beer and margarita garden, live music, and arts, crafts and food vendors. Plus, there are activities to keep the kiddos occupied.
It's free to get in and all money raised helps the Northwest Colorado Chapter of Parrotheads provide scholarships.
Read more about the event on page 3 of today's paper. Call Dory Brown at 824-8317 if you need more details.
■ The internationally known Meeker Classic Sheepdog Trials are at our neighboring community to the south this week.
The trials run from today through Sunday in Meeker and feature 135 dog/handler teams competing for $25,000.
Five-day tickets are $30 for adults and $15 for seniors and children ages 8 to 16. One-day tickets are $10 for adults and $5 for seniors and children 8 to 16. Children younger than 8 get in free.
Don't take your pets to this thing.
But also don't miss a concert by country singer Chuck Pyle plus bagpipes, demonstrations and contests.
Get a full schedule of events at www.meekersheepdog.com.
Also, check out the Quilts in the Country show from 3 to 8 p.m. Friday and 9 a.m. to 5 p.m. Saturday at Meeker Elementary School. Admission is $3.
■ The next Chamber mixer is 11:30 a.m. to 1:30 p.m. Friday at Downtown Books, 543 Yampa Ave.
It's the second lunch mixer, so go hungry.
It's free, but RSVP to 824-5689 or office@craig-chamber.com.
■ It's not your mother's square dancing.
That's what the Greenridge Mountaineers Square Dance Club wants you to know about the weekly lessons they are offering through the winter.
It starts at 7 p.m. Friday at Yampa Valley Feeds, 198 E. Lincoln Ave., Hayden. Lessons continue at 7 p.m. every Friday throughout the winter at the American Legion hall in Hayden.
Call Betta at 824-2046 to get the scoop.
■ Yampa River State Park hosts its Leave No Trace program at 7 p.m. Saturday at the park, 6185 U.S. Highway 40 West.
Learn to respect public lands, wildlife and other users at the program, which is open to all ages.
Call 276-2061 to learn more.
■ New at Redbox this week are "Everything Must Go," "Paul," "Your Highness," "Assassination Games" and "The Entitled."
Read what movies West Theatre is getting this weekend in Friday's Craig Daily Press.
Click here to have the print version of the Craig Daily Press delivered to your home.