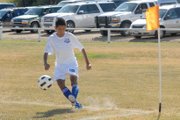 Box score
Box score from the Moffat County High School boys varsity soccer team's game Friday against Grand Junction Central High School:
(Team — 1st half — 2nd half — final)
Moffat County — 1 — 0 — 1
Central — 1 — 1 — 2
MCHS leading scorers:
(Name — goals)
Johnny Landa — 1
It only takes one good shot and one missed assignment to lose a game.
Such is the lesson the Moffat County High School boys varsity soccer team learned in Friday's season opener against Grand Junction Central High School at Loudy-Simpson Park.
The Bulldogs scored the first goal of the game, but Central scored on a penalty kick and late in the second half to steal a 2-1 victory.
"We played a good game, but two mistakes changed the game," head coach Rusty Cox said. "We will make adjustments and be good, but we played hard enough (Friday) to win the game, it just didn't go our way."
The Bulldogs (0-1 overall, 0-0 Western Slope League) started the game aggressive, dominating in time of possession.
Senior Johnny Landa scored the first goal of the season for MCHS when a shot from junior teammate Alex Perez went off the goal post and sent the goalie diving, leaving an easy rebound shot for Landa in front of the net.
However, the Warriors scored minutes later on a penalty kick that went around a wall set by the Bulldogs and into the top shelf, past the goalie's hands.
The two teams went into the half tied, 1-1, but Central got through the MCHS defense with less than 10 minutes left and controlled the ball the rest of the way to run the clock out.
Ultimately, Cox said, it came down to substitutions.
"If you looked at both benches, they were sending subs in the whole time," he said. "We have a lot of young players and I want to get them in, but we can't put them all in at the same time.
"We had miscommunications between a defender and a midfielder and they took advantage with fresh legs."
The Bulldogs outshot the Warriors, 41-8, but struggled against a relentless Warrior defense.
Having a young team, Cox said, also affects the offense, as he had to move players to different positions this season after making a playoff run last year.
"We just didn't connect (Friday), but we will work through it," he said. "We are trying to redo everything from last year, but we have players who are in different positions than last year. A guy will kick the ball and expect his teammate to be there, but it's not the same player in that position as last season.
"We played well enough to win, but just a couple of missteps can change a game."
The Bulldogs will travel Thursday to Roaring Fork High School.
Cox said he expects an uphill battle.
"We have some adjustments to make and we definitely want to work on our send-throughs because we lacked it against Central," he said. "Our defense is solid and we just were a little out of whack in the first game. It will be a good season."
Click here to have the print version of the Craig Daily Press delivered to your home.