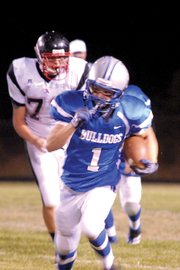 Results
Box score from the Moffat County High School varsity football game Friday against Aspen High School at MCHS:
(1st — 2nd — 3rd — 4th — final)
• MCHS: 14 — 0 — 0 — 14 — 28
• Aspen: 0 — 12 — 7 — 13 — 32
Scoring summary:
First quarter
• Moffat County — Mason Updike rushing touchdown — 7-0
• Moffat County — Mason Updike rushing touchdown — 14-0
Second quarter
• Aspen — Tucker Beirne 17-yard pass to Quinn Morehead — 14-6
• Aspen — Tucker Beirne 15-yard pass to Quinn Morehead — 14-12
Third quarter
• Aspen — Casey Hornburg 1-yard rush — 19-14
Fourth quarter
• Moffat County — Bubba Ivers 33-yard rush — 20-19
• Aspen — Tucker Beirne 61-yard pass to Quinn Morehead — 25-20
• Moffat County — Michael Samuelson 1-yard rush/Bubba Ivers rushed in two-point conversion — 28-25
• Aspen — Tucker Beirne 37-yard pass to Quinn Morehead — 32-28
The Moffat County High School varsity football team looked at its books following Friday's game against Aspen High School to see one stat standout above the rest.
160 yards.
It wasn't a rushing or passing total. It wasn't the opposing team's total offensive yards.
The Bulldogs racked up 160 yards of penalties, fair or not, as MCHS came up just short in their home opener, falling to Aspen, 32-28.
Many of the referees' calls came into question by the Bulldogs' coaching staff when a dispute finally came to a head in the third quarter, ending with defensive coordinator Lance Scranton being ejected from the game.
"Our kids showed so much character and heart and we couldn't be more proud of them," head coach Kip Hafey said. "They kept working and consistently overcame adversity, which is tough."
The Bulldogs (0-2 overall, 0-0 Western Slope League) were called for nine holding penalties while the Skiers (2-0) were never penalized for holding.
"160 yards was just the penalties and didn't count the 10 yards we picked up before the penalty," Hafey said. "If you count what we lost, it probably comes out to about 250 yards. Our players still almost overcame everything and it showed heart and determination on their part."
Senior Mason Updike rushed for two touchdowns to open the game, giving the Bulldogs an early 14-0 lead in the first quarter.
Aspen responded in the second when freshman quarterback Tucker Beirne connected on two occasions with senior receiver Quinn Morehead for touchdown passes.
The Skiers missed an extra point and a two-point conversion to send the game to halftime, 14-12, in favor of the Bulldogs.
Heading into the fourth quarter, Aspen held a slim 19-14 lead, but a 33-yard run around the end from MCHS quarterback Bubba Ivers put the Bulldogs up 20-19 with just over 8 minutes remaining.
MCHS and Aspen traded touchdowns before Beirne and Morehead again connected, this time on a 37-yard touchdown pass, to put the Skiers up for good, 32-28.
"Our players did everything they were suppose to do," Hafey said. "They played sound football and we had a two-touchdown lead early. The penalties were just too much to overcome."
Junior Jacob Teeter's kickoff return was called back in the fourth quarter after a penalty was called inside the 10-yard line.
Still, the Bulldogs had a chance with a final drive with 1 minute, 43 seconds remaining.
The Bulldogs drove to the 18-yard line with 18.8 seconds left, but after Ivers was sacked, the ball was not reset before the clock ran out.
"We had about 300 yards rushing and our line dominated the line of scrimmage," Hafey said. "Our running backs ran hard and our special teams got us good field position. (Aspen) is a solid football team and had a couple of things go their way in the end."
Defensively, the Bulldogs stopped the Skiers on two fourth down attempts, once on the goal line and another in the red zone.
However, four touchdown passes from Beirne were too much to overcome.
"They have a good quarterback and he did a good job landing the ball where he needed," Scranton said. "I thought this game was a real character builder for our team, but it was hard to overcome playing two teams when we were just suppose to be playing one."
Junior Michael Samuelson had the other touchdown for the Bulldogs on a 1-yard rush in the fourth quarter.
MCHS will have a bye next week before traveling to John F. Kennedy High School on Sept. 16.
Click here to have the print version of the Craig Daily Press delivered to your home.