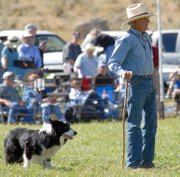 If you go…
What: 25th annual Meeker Classic Sheepdog Trials
When: Wednesday to Sept. 11
Where: West of downtown Meeker
Activities of note: The event features 135 dog/handler teams competing for a $25,000 purse. Spectator activities in the five-day competition include demonstrations in spinning, weaving, felting and pottery, seminars in cooking lamb, sheep-shearing contests, bagpipers and a free outdoor barbecue and concert by country singer Chuck Pyle.
Cost: Five-day tickets are $30 for adults and $15 for seniors and children 8 to 16. One-day tickets are $10 for adults and $5 for seniors and children 8 to 16. Children younger than 8 get in free. Attendees are asked to leave pets at home. For a full list of events, visit www.meekersheepdo... or call 878-0111.
Quilts in the Country: In conjunction with the Meeker Classic, the Meeker chapter of Philanthropic Educational Organization International will host its inaugural Quilts in the Country fundraiser from 3 to 8 p.m. Friday and 9 a.m. to 5 p.m. Sept. 10 at Meeker Elementary School, 455 Main St. The show includes a bake sale and raffle. Admission is $3. For more information on the show, call 878-3143.
For most people celebrating a 25th anniversary, the expected gift would be silver.
For the participants in this year's Meeker Classic, a couple of Milkbones will probably suffice.
Now in its 25th year, the Meeker Classic Sheepdog Trials will take place from Wednesday to Sept. 11 west of downtown Meeker.
A total of 135 dog/handler teams are scheduled to compete in the sheepherding competition, which includes a $25,000 purse to be distributed among the top teams.
"We've upped the purse from $20,000 to $25,000, and the number of dogs from 125 to 135 as part of the 25th year," trial director Mary Cunningham said. "We'll be offering a lot of new things like calendars and a history of the competition."
Border collies and their handlers from across the country, from Oregon to New York — as well as many Canadian teams — will converge on Meeker for the competition. Many competitors have been involved with the event since it began in 1987.
Since its beginning, the competition has grown considerably, attracting worldwide attention.
This year's judge is David Lyttle, of Donegal, Ireland, whose family has been involved in livestock and sheepdog training for four generations.
"David is very respected and well-liked in the community, and an expert in his own right," Cunningham said. "He was going to judge with his son, Allistair, but they just found out that he qualified for the Irish team of the World Sheepdog Trials in England, so Allistair is going to stay home and train for that. They only have it every three years."
Cunningham said many competitors are intrigued by the attitude of the area sheep used in the contest.
"The range sheep really challenge dogs from the eastern part of the country," she said. "They have to be really strong to handle them. Allistair is really envious that he won't be able to see them in action."
But, the trials offer many more activities beyond the canine competition.
While watching the dogs tackle the task of corralling the feisty mountain sheep, attendees can also get a taste of the shepherd lifestyle.
Activities include a sheep-shearing contest; seminars in saddle-making by leatherworkers Bob Klenda and Mike Brennan; "Taste of Colorado Lamb" by caterer Christine Halandras; and "Border Collies: Training, Trialing and Work on the Ranch" by trial competitor Chris Jobe.
The five-day event also includes early morning pancake breakfasts, numerous crafts and food vendors, and demonstrations by spinners, weavers, felters and potters. Later in the week are weekend lamb barbecues, as well as a free concert by country musician Chuck Pyle.
As a separate part of the event, the Meeker chapter of Philanthropic Educational Organization International will host its inaugural Quilts in the Country fundraiser at Meeker Elementary School, 455 Main St.
The show includes a bake sale and raffle, with proceeds going toward educational assistance and opportunities for women.
Cunningham said she has already fielded many phone calls from people across the nation planning to attend the Meeker Classic.
"It's such a big event and the whole community takes part in it, and that's what people love about it," she said. "Some people have been coming here for 15 or 20 years. Western Colorado really opens its doors to the world."
For a full schedule of events, visit www.meekersheepdog.com.
Click here to have the print version of the Craig Daily Press delivered to your home.