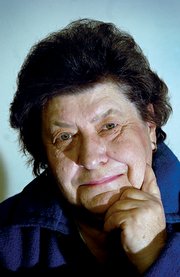 'Halloween Spiders'
To make "Halloween Spiders," you'll need:
• 12-ounce package butterscotch morsels
• 1 (No.2) can chow mein noodles
• 1 small can peanuts
• Candies for eyes (and licorice for legs, if desired)
Melt butterscotch morsels over low heat or in the microwave. Stir in the noodles and peanuts. Mix well. Spoon onto waxed paper. Add candies for eyes. Pull off some licorice (slender) strips. Cut into small legs. Push into noodles.
It can't be that Halloween is here already, but here it is and the snow to go along with it. It's fun to make Halloween goodies with kids, and so I found two recipes in my file that are fun to make and quick, too.
Chow mein noodles can be used to make treats for all kinds of occasions. I've used them to make haystacks and bird nests. This week's two recipes are used in making spiders.
To make the first recipe for "Halloween Spiders," you'll need these ingredients: 12-ounce package of butterscotch morsels, 1 (No.2) can chow mein noodles, 1 small can peanuts, and candies for eyes. That's all.
Melt the butterscotch morsels over low heat (or use the microwave). Stir in the noodles and peanuts. Mix well. Spoon on waxed paper. Before the "spiders" harden, add small candies like M&Ms for eyes. You might try adding some black licorice "strings" for legs.
Of, if you prefer using chocolate rather than butterscotch, try this recipe for "Halloween Spiders." The ingredients are: 12-ounce package chocolate chips, 1 can chow mein noodles, and small candies for eyes. This recipe does not call for peanuts, but you could probably use them.
Melt the chocolate in the microwave. (Add 2 to 4 tablespoons water, if you think it's needed, to thin the chocolate.) Stir in the noodles. Drop by spoonfuls onto waxed paper. Add candy eyes. Let harden.
Last week, I requested recipes for using wild meat, and Meredith Rogers from Meeker called me. She has 21 recipes for using wild game, and she sent two of them. This column features "Venison Stroganoff." Next week's column will include still another of Meredith's recipes. Thanks, Meredith.
This recipe came from "The Authorized Texas Ranger Cookbook," and was submitted to the cookbook by John Barron Harris, of the Texas Ranger Association Foundation, and his wife, Cheryl.
The ingredients for "Venison Stroganoff" are: 1 pound venison steak, cut into long, thin strips; 3 tablespoons flour; dash of salt and pepper; 1 onion, chopped; 1 cup tomato juice; 1 ½ cups water; 1 teaspoon sugar; 1 can mushrooms; and ½ cup sour cream.
Dredge meat with flour, salt, and pepper. Brown lightly in fat with the onion. Add tomato juice, water, and sugar. Simmer until tender. Ten minutes before serving, add mushrooms and sour cream. Yield: 4 servings.
Do you have wild meat recipes that you'd like to share? Also, does anyone have a recipe for making a basic mix to be used in making bread loaves, such as banana nut bread? This would be a basic mix that can be stored, and then a person can use it, by adding special ingredients, to make different sweet breads. If you have any of these recipes, call me at 824-8809 or write to me at Box 415, Craig 81626.
Click here to have the print version of the Craig Daily Press delivered to your home.