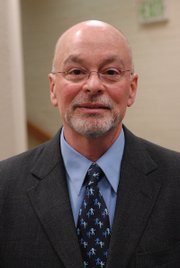 In other action ...
At its workshop Thursday, the Moffat County School Board:
• Conducted public hearings on policies regarding student investigations, searches and arrests; staff conduct; and employee expectations.
• Heard a report about Lobato v. Colorado, a court case challenging whether state funding provides for a "thorough and uniform" public education system as required by Colorado's constitution. The Moffat County School District is one of more than 100 plaintiffs in the case. Kathy Gebhardt, a lawyer for the plaintiffs, told the school board via a phone conference that the case is set to go before a judge soon.
• Heard a report from the school district's athletics council about student athlete eligibility, coach training and evaluation, and facility naming.
At its regular meeting Thursday, the Moffat County School Board:
• Heard a report from Superintendent Joe Petrone about the district's professional growth incentive program.
• Heard a report about new English Language Proficiency Standards. The board later voted, 7-0, to adopt the standards.
• Adopted, 7-0 a second reading to rescind a policy regarding employee expectations.
• Adopted, 7-0, an amended policy on staff conduct on first reading. The original version of the policy passed on first reading at a previous board meeting, but since it was later changed substantially, board members opted to start the policy approval process over again.
• Adopted, 7-0, a policy regarding student investigations, searches and arrests on second reading.
• Approved, 7-0 a motion to move the board's December meeting from Dec. 15 to Dec. 13.
The Moffat County School board voted unanimously Thursday to increase Superintendent Joe Petrone's salary by 2.5 percent.
The increase, which is retroactive, brings Petrone's total annual salary to $128,125.
The board designated July 1, 2011, or exactly two years after Petrone's first day on the job, as the date the salary increase takes effect. The raise increases Petrone's $125,000 salary by a little more than $3,000.
"It's not a huge raise, but it's probably the best that we can do under our current circumstances," Board President Jo Ann Baxter said.
The next step is to amend Petrone's contract to reflect the pay increase. Petrone's contract is ongoing, meaning that it renews automatically unless the board votes otherwise.
The pay increase came after board members completed an evaluation on Petrone's performance, similar to the ones principals and teachers will be measured against as the school district participates in a pilot program for Colorado Senate Bill 10-191, also known as the "Great Teachers and Leaders Bill," and the "Educator Effectiveness Bill."
The measure, which takes full effect in 2015, is tailored to create a consistent statewide system for evaluating educators.
"We find his work to be in almost every way exceptional," Baxter said. "We are very pleased with the work he is doing."
She added that Petrone has not received a raise since he began at the district two years ago.
The board's action also was an attempt to bring his salary in line with that of other superintendents in districts of similar size.
"Our superintendent is at a lower rate," Secretary Trish Snyder said. "I don't believe this brings him up any closer to their salaries, but it is an attempt to make it more equitable."
Baxter believed there also was another reason to stand behind the proposal.
"I think it's also an attempt to let people know how much we appreciate the work and the leadership that Joe has provided us for the last two years and a way for us to encourage him to continue in that effort," she said.
After the vote, Petrone expressed his thanks to the board.
"I appreciate that," he said. "Thank you, one and all."
Click here to have the print version of the Craig Daily Press delivered to your home.