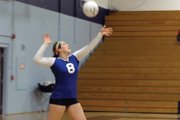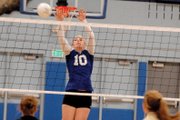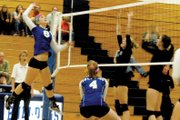 Results
Box scores from the Moffat County High School varsity volleyball team's matches Saturday against Eagle Valley High School and Battle Mountain High School, both at MCHS:
Against Eagle Valley:
Set 1
• Moffat County — 18
• Eagle Valley — 25
Set 2
• Moffat County — 19
• Eagle Valley — 25
Set 3
• Moffat County — 18
• Eagle Valley — 25
— Eagle Valley won 3-0
Against Battle Mountain:
Set 1
• Moffat County — 25
• Battle Mountain — 22
Set 2
• Moffat County — 7
• Battle Mountain — 25
Set 3
• Moffat County — 25
• Battle Mountain — 15
Set 4
• Moffat County — 9
• Battle Mountain — 25
Set 5
• Moffat County — 16
• Battle Mountain — 14
— Moffat County won 3-2
What looked to be an all-too-familiar finish for the Moffat County High School varsity volleyball team turned into something much sweeter with one play Saturday.
Having fallen earlier in three sets to Eagle Valley on Saturday morning at home, the Bulldogs suited up for their final match of the season against Battle Mountain at MCHS.
With the match tied at two sets a piece, the Bulldogs couldn't pull away from the Huskies to be the first team to 15 in the final set.
Up 15-14 in a win-by-two scenario, senior Jordan Field took a set from fellow senior Morgan Knob and spiked the ball past all the Battle Mountain players into the back right corner.
In a season that didn't go quite the way the players and coaches hoped, the Bulldogs found a way to win their first home match in their final try, 3-2.
"Earlier in the match, I was just worried about getting the ball over," Field said after the game. "At (the 15-14) point, I had confidence in my team and in myself, so I just wanted to put it down."
In the first match of Saturday's doubleheader, MCHS fell 25-18, 25-19 and 25-18 to Eagle Valley.
Head coach Sandy Camilletti said playing two teams in the same day is hard and coming back after losing the first match is even harder.
"We had a lot of rallies in the second match on top of playing earlier, so I think we were really tired out," she said. "It was a long, hard day, but it feels really good and I am happy for the girls and really happy for the seniors."
Battle Mountain took an early 8-4 lead in the first set, but behind the serving of senior Heather Jenkins, the Bulldogs pulled ahead 10-8 and never relinquished the lead in a 25-22 victory.
However, in the second set, the Huskies stormed out to an early 9-1 lead.
In a set where the Bulldogs kept hitting the ball into the net or out of bounds, Knob knocked the ball out of bounds again to fall 25-7 in the second set.
Camilletti said when one team gets going, it is hard to stop them.
"Volleyball is such a game of momentum," she said. "Whenever a team gets going and scores, it is hard and both of us did it early."
In the third set, the Bulldogs led 8-6, and Field expanded her team's lead, scoring eight consecutive points on her serve on the way to a 25-15 win.
But Battle Mountain again rebounded in the fourth set, scoring 12 straight points after leading 12-8 early. The Huskies forced a fifth set with a 25-9 win.
Given it was the seniors' last match, Field said the players never hung their heads.
"We stayed positive and really wanted to go out with a win," she said. "All of us seniors, it was our last game ever and we wanted to get a win.
"It really is a game of momentum, and we tried to keep it up no matter what."
Both teams showed fatigue in the final set with multiple players sending serves into the net.
The Bulldogs went up 13-11 and Battle Mountain tied it at 14-14 before MCHS scored the final two points.
Senior Annie Sadvar had 10 kills in both matches while Knob killed four balls against Battle Mountain.
Field had four aces against the Huskies.
The Bulldogs finished the season 5-13 overall, 2-9 in Western Slope League play.
Despite the record, Camilletti said players improved and kept playing hard until the final point.
"Throughout the season, we progressed and even in losses I think we improved and learned," she said. "We didn't play safe (Saturday) and we played to win."
With the high school careers over for Field, Knob, Sadvar and Jenkins, the Bulldogs lose four of their six starters heading into next year.
And while MCHS didn't make the playoffs in her final year, Field said it was a great last season.
"I wanted to go out with a bang, and it felt great to do that," she said. "Even though our record didn't show it, I think this was one of our best seasons we have had lately and it was my best season.
"I am ready to start the next chapter in my life, but it is sad that I won't play another game here."
Click here to have the print version of the Craig Daily Press delivered to your home.