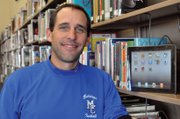 At a Glance …
• Moffat County schools receive 35 new iPads this month.
• Devices paid for by grant funded by the Institute of Museum and Library Services.
• Twenty-five iPads go to Moffat County High School and 10 are earmarked for Craig Middle School.
• MCHS educators: iPads are a useful tool in supplementing classroom lessons, engaging students.
Forget the latex gloves, scalpels and formaldehyde.
If you want to dissect a frog without actually slicing into a dead amphibian, there's an app for that, said Krista Schenck, Moffat County High School business, marketing and technology teacher.
"There's just a ridiculous amount of applications that you can get for education," she added.
She would know.
She's been using iPads in her classroom for more than a year, and she's an enthusiastic advocate for their power to reach electronically savvy students.
"This is their generation," she said. "They love it."
Starting this month, more of her colleagues will have access to this kind of technology.
MCHS received 25 new iPads this month, thanks to a grant funded by the Institute of Museum and Library Services.
Another 10 iPads are earmarked for Craig Middle School, said James Neton, MCHS librarian/media specialist.
A fraction of the $75,000 grant, or about $19,000, went to Moffat County schools, said Julie Dalke, media coordinator for the Northwest Colorado Board of Cooperative Educational Services. The rest was spread among school libraries throughout the BOCES district, as well as several public libraries.
Ramping up the schools' electronic inventory fits with an emerging trend in high school libraries.
"More and more, we are trying to use technology to reach students in the same way that we did with books," Neton said. "Books are still important, but this is another avenue or way to reach students with information and promote reading."
'At their fingertips'
MCHS seniors Kadi Scott, Jodi Hoeland and Gabbi Steele clustered around an iPad in Schenck's marketing class Friday morning.
As they read from a script, they tried to stifle their giggles as they affected different voices for each of the characters in a video they would later use to teach their class about business management.
This kind of presentation is "easier to understand" than a simple presentation to the class, Hoeland said.
And, she added, it's fun.
In Schenck's eyes, iPads aren't mere gadgets or new-fangled embellishments on the traditional teaching model. They put students in the driver's seat, making them take an active part in what they learn.
"When we're teaching out of the textbook … we're doing the teaching and they're doing the listening," she said. "This (technology) puts it more in their hands. They get to do their own research, they get to find cool things and then talk to the class about it."
The devices also give her students instant access to the tools they need for research and class projects.
If they need to look up the exchange rate in China, for example, they can do it right there in class instead of going to the computer lab.
"They have everything at their fingertips," Schenck said.
Still, educators don't see the iPad as a cure-all or a replacement for good teaching.
They're like any other tool for instruction in that "if you use it too much, it's not going to be a good thing," said Mary Quinn, MCHS English and speech teacher. "But, if you use it as an enrichment or an intervention or a different mode of reading, I think that the kids will like it, buy into it and want to keep using it."
Teachers have to take precautions when using technology, Quinn said, because the temptation for distraction and plagiarism is always there.
The key, she said, is teaching students how to use the tools appropriately. That includes showing them how they can use the devices for learning and productivity, not just playing games or communicating.
As much as technology can support Quinn's lessons, she believes the rapid change in technology is another reason why incorporating tools like iPods and iPads into the classroom is a good idea.
"(Students will) really be behind if we don't get the kids on iPad and iPod Touches and those things now," she said.
She's not alone.
The world is constantly changing, Schenck said, and students have access to more knowledge than previous generations, which means finding information and evaluating its sources are crucial skills.
"There's just so much information that these kids need to retain that we need to spend time on teaching them how to get it and not just what the information is," she said.
And, if she can show them the skills to do that, "they're going to have that for life," she added.
Click here to have the print version of the Craig Daily Press delivered to your home.