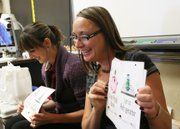 At a Glance …
• First National Bank of the Rockies programs designed to teach students personal finance skills.
• "Teach Children to Save" teaches elementary and middle school students about saving and safely storing their money.
• "Get Smart About Credit" teaches high school students about credit, budgeting and identity theft.
• Programs intended to help students learn skills they will need as adults.
What's the safest place to store your money, Lori Gowdy asked a group of East Elementary School first-graders Wednesday: your wallet or a hole in your back yard?
"Wallet," the children chorused.
The exercise was part of a program called "Teach Children to Save," one of two offered by First National Bank of the Rockies. The purpose of the programs: to teach children how to be financially savvy.
Gowdy, FNBR loan administration specialist, believes protecting and saving money is an essential skill that's best learned early.
"When you're an adult and you have to pay for everything yourself, it's good to have that (savings) to fall back on," she said Tuesday.
"Teach Children to Save" is geared toward elementary and middle school students and teaches children the importance of savings using examples they can identify with.
On Wednesday, Gowdy and FNBR teller Shirley Vazquez read to first-graders about Silly Sam, a boy who wanted to save money for a special toy but who quickly lost his earnings by storing his money in less than ideal places.
Once, the story goes, Sam hid his money in a tree, where a bird made a nest out of it.
The story, Gowdy said Tuesday, is designed to teach children "if you don't put it in the bank and keep it in the bank, then it's always gone and you can't get the big prize at the end."
"Teach Children to Save" also teaches children to save for things they want, whether it be a special toy or a new snowboard.
If children can learn to do that while they're young, they'll be better off when they get older, Gowdy said.
"Someday you're going to … turn 16 and you're going to want to buy a car, and mom and dad aren't necessarily going to be able to buy a car for you, or they want to meet you halfway," she said.
"And if you're always just
blowing your money at McDonald's on a cheeseburger or a shake, you're never going to get to that point."
The bank also reaches out to high school students with a program called "Get Smart About Credit." Here, students learn tips for building good credit, like getting a small credit card and paying it off on time.
This program, too, is designed to instill important skills that students will need later in life.
"Everybody's going to want to buy a home for sure," Gowdy said. "Everybody's going to want to buy a car, and more than likely, you're going to need financing for both of those."
"Get Smart About Credit" also touches on identity theft, warning high school students about "dumpster diving" and other common ways their personal information can fall into the wrong hands.
The bank's Craig branch has offered these programs for about two years.
The goal this year is to take them into every grade level, Gowdy said, including those at the Moffat County Alternative School.
On Wednesday, East Elementary teacher Alegra Corey sat with her first-graders as they debated whether a piggy bank or jar in the refrigerator would be the best place to stash cash.
Later this year, she'll teach her students a unit on money and goal setting, which dovetails with what they learned through the FNBR program, she said.
"I just think that it's very important that children this age understand the concept of money and what it means to save," Corey said.
Click here to have the print version of the Craig Daily Press delivered to your home.