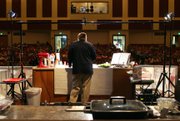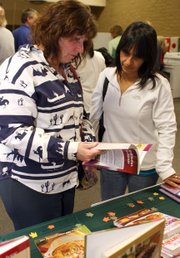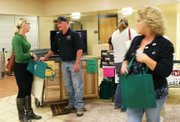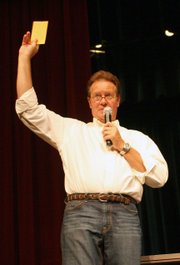 At a Glance …
• Taste of Home Cooking School draws an estimated 400 people Monday night at Moffat County High School.
• Cooking demonstrations included recipes like pumpkin whoopie pies, groundnut stew and barbecue chicken pizza.
• Attendees also won prizes ranging from cookbooks to a countertop oven.
Using one word, Karra Juergens summarized why she came to the Taste of Home Cooking School on Monday night.
"The recipes," said Juergens, of Craig.
"I have two boys, so they're always hungry, so … it's nice to have something different for them."
Make that three boys, she said, laughing. She has her husband to feed, too.
The event — which took place at Moffat County High School and was hosted by the Craig Daily Press — featured culinary specialist Guy Klinzing, who demonstrated an array of recipes ranging from pumpkin whoopie pies and groundnut stew to barbecue chicken pizza and raspberry mustard pork loin.
Event organizer Amy Fontenot, who also is the Daily Press office/circulation manager, estimated that about 400 people attended the cooking school.
Juergens has attended the show all three years it's been hosted in Craig. The appeal, she said, is getting new ideas to incorporate into her culinary repertoire.
"It's always nice to have something new to cook," she said. "You get tired of cooking the same old stuff."
The event got rave reviews from Anita Erickson, of Meeker.
"I'm loving it," she said during the show's intermission.
The easy Thai chicken and rice recipe was probably her favorite recipe of the evening, she said, but she was planning to try all the meals Klinzing demonstrated.
Attendees also could enter to win a variety of door prizes ranging from cookbooks to a countertop oven.
And that, for Erickson, was another reason to come.
"The possibility of winning something is always fun," she said.
Craig resident Amanda Ott has visited the cooking show in Craig before, and she came back this year for the cooking demonstrations.
"I like to try new recipes, so any time I get a chance to try some new ones, I'm game," she said.
Still, Ott added, the cooking show has another appeal.
The event is a "good girls' night out," she said.
Village Inn was among an assortment of businesses that sold their wares or offered samples at the event.
The Craig restaurant prepared about 500 pie samples for the show, general manager Jeff Leavitt said. And, as of about 6:45 p.m., at least 400 people had stopped by the booth, he said.
Monday was his first time setting up a booth at the cooking show. And, if the show comes to Craig again, he'll be back, he said, "most definitely."
Click here to have the print version of the Craig Daily Press delivered to your home.