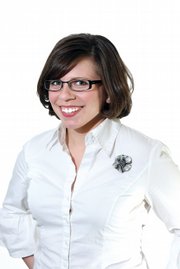 Weekend movie showtimes
West Theatre
29 E. Victory Way
824-2000
• "The Help," PG-13; 7 and 9:05 p.m. Fri. and Sat., 4 and 7 p.m. Sunday
• "Abduction," PG-13; 7 and 9:05 p.m. Fri. and Sat., 4 and 7 p.m. Sunday, 7 p.m. Monday and Tuesday
• Tickets: $7 for ages 10 and older, $5 for ages 9 and younger
• Sunday matinee: $5 for ages 10 and older, $4 for ages 9 and younger
Submit your event
Submit your event's details for consideration by emailing me at mballeck@craigdai... or calling 875-1790.
There's plenty of music, a parade, lots of sports and a sprinkling of other activities on tap this weekend. Cheer on the Bulldogs and don't miss a huge concert for our neck of the woods.
■ It's a big deal when a second-place finisher on a national TV show hits Craig.
Street Corner Symphony, which was the runner up on NBC's "The Sing-Off," performs here at 7 p.m. Sunday at Moffat County High School, 900 Finley Lane, thanks to the Craig Concert Association.
Tickets are $20 for adults or $10 for students. But, the better deal is a year membership, which includes four more concerts, for $35 for adults, $10 for students or $80 for a family.
Get tickets at Bank of Colorado or the Craig Chamber of Commerce.
Visit www.craigconcerts.org or call Julie Dempster at 824-5251 for more.
■ The Walker Williams Band always promises a good time, and this weekend is sure to be no exception.
See for yourself at 9 p.m. Friday and Saturday at the Sports Page Bar at the Holiday Inn of Craig, 300 S. Colorado Highway 40. There's no cover charge.
■ You know it's fall when Moffat County High School's Homecoming rolls around.
Enjoy the bonfire at 8 p.m. Thursday at the high school, the parade downtown at 2 p.m. Friday, the cardboard regatta at Loudy-Simpson Park at 3:30 p.m. Friday and the game against Glenwood Springs at 7 p.m. Friday.
For all you high school sweethearts out there, the Homecoming dance is at 9 p.m. Saturday.
■ Listen to local talent — Steve Ghirardelli, Ray Cartwright and Bill Ronis — during the monthly variety show.
They take the stage at 7 p.m. Friday at Veterans of Foreign Wars Post 4265, 419 E. Victory Way.
■ Enjoy some fall colors and perhaps your final tourney of the season during the four-person, 18-hole couples tournament at 10 a.m. Sunday at Yampa Valley Golf Course, 2179 Colorado Highway 394.
The cost is $46 per couple, and the theme is Bronco Bash Night.
Call 824-3673 to get signed up.
■ Enter to win a rifle at Saturday's American Legion Post 62 bingo games.
Doors open at 4:30 p.m. and games begin at 5:45 p.m. at the Elks Lodge, 43 W. Victory Way.
■ Light a candle and raise awareness.
Advocates-Crisis Support Services hosts a candlelight walk and vigil at 5:30 p.m. today on Victory Way as a way to raise awareness about domestic violence. It begins at Craig City Park and ends at the Moffat County Courthouse.
For more details, call 824-9709.
■ Find a forever friend at Second Chance Saturday.
The Humane Society of Moffat County hosts the event, which offers reduced price pet adoptions, from 9 a.m. to noon Saturday at the Craig Animal Shelter, 2430 E. Victory Way.
Check out the available pets at www.petfinder.com or just visit the shelter.
Call Carol at 824-2103 to get more info.
■ Take up a new hobby with free crochet lessons from Mary Walters.
The next class is from 1 to 4 p.m. Friday at 655 Ranney St.
Call Mary at 824-2923 to find out what to take with you.
■ West Theatre is getting in "The Help" and "Abduction" this week.
New at Redbox this week are "Transformers," "Scream 4," "Hanna," "Marry Me," "Double Wedding," "Submarine" and even a few others.
Click here to have the print version of the Craig Daily Press delivered to your home.