Box score of the Craig Middle School boys basketball games Tuesday against Hayden at CMS:
Eighth-grade B-team:
(Team — 1st — 2nd — 3rd — 4th — final)
• CMS — 5 — 7 — 11 — 5 — 28
• Hayden — 0 — 3 — 0 — 0 — 3
— Season record: 3-3
Seventh-grade A-team:
• CMS — 20 — 7 — 9 — 6 — 42
• Hayden — 0 — 4 — 2 — 0 — 6
— Season record: 11-0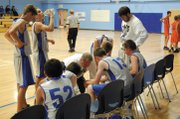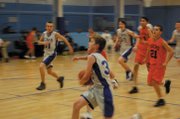 Coming back from a holiday that involves stuffing one's self with food and lying around the house could be detrimental for a young athlete.
Fortunately, the Thanksgiving break did not provide such a damper on the winning ways of the Craig Middle School boys basketball teams.
If there was any tryptophan remaining in the bodies of CMS seventh- and eighth-grade hoopsters, it didn't show during their last home game of the season.
The seventh-grade A-team and eighth-grade B-team came back from their holiday to trump Hayden with gusto.
The seventh-graders set the pace from the get-go, leading the Tigers 20-0 by the end of the first quarter.
The Bulldogs' scoring streak subsided as the game progressed, but they took a 27-4 lead into halftime.
With Hayden scoring two points in the third quarter and none in the fourth, A-team player Eddie Smercina helped lead the group to a 42-6 conclusion.
"We've done amazing," Smercina said. "I'm so proud to have the team that we have."
The win is the latest for the unbeaten A squad, which is now 11-0.
The eighth-grade B-team also played one of its best games Tuesday, the only one of the season in which A-team players didn't participate given the smaller Hayden roster.
The eighth-graders mimicked the younger Bulldogs' success with a 5-0 first quarter.
CMS led 12-3 at halftime.
The B-team went on to hold the Tigers to a scoreless second half, winning 28-3 to push their season record to 3-3.
"They were a lot better defensively in the second half than I've ever seen," CMS coach Drew Morris said. "They really had a great game."
B-team player Scott Foster was among the hardest fighting on the defensive end, nabbing passes and snagging rebounds.
Likewise, teammates Steven Walls, Blake Ludgate, Connor Knez, Jordan Kainz and Dwane Wiseman rounded out the shot output.
"At the beginning, we weren't really good as a team, but we came together at the end, and I was glad we could do that for the last game," Walls said.
While B-teams are done for the year, the seventh- and eighth-grade A-teams will play the last regular season game Friday in Baggs, Wyo.
"They're going to run us hard," Smercina said. "I think they'll be a little more conditioned."
Seventh-grade coach Justin Folley agreed that Baggs would be prepared to beat the Bulldogs this time around.
"They're going to be kind of tough," he said. "They've got some kids that can shoot the ball. You get them an open shot, they're going to take it and they're going to make it."
The Bulldogs won't have much time to rest, with the district tournament scheduled for Saturday morning in Steamboat Springs.
"We have to be ready for a 1-3-1 defense and we need to be prepared to put pressure on the ball," Morris said. "We've got to expect different things from every team and not assume we're going to win."
Folley said the championship event would show how far his team has come.
"We've had improvements all year," he said. "Offensively, we've got a couple plays we want to get in, and defensively I'd like to work a little more man-to-man. Our zone has improved dramatically."
Folley's players are anticipating vengeance Saturday from the Meeker, Rangely and Steamboat teams, all of whom they've beaten twice during the season.
"They'll all be raring to go," Smercina said.
Click here to have the print version of the Craig Daily Press delivered to your home.