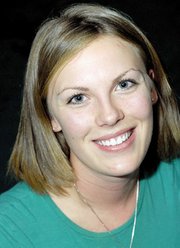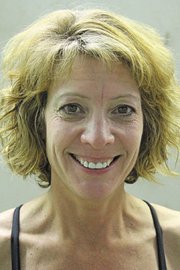 Team at a glance ...
Coaches:
• Meghan Francone
• Anita Reynolds
Seniors:
• Amy Brodie
• Luci Franklin
• Danielle Knez
• Alexsis Silva-McKay
• Adrienne Wix
2010 state qualifiers:
• Amy Brodie
• Luci Franklin
• Larissa Grammer
• Eryn Leonard
• Mary Penner
By the numbers:
4: The Bulldogs have four swimmers competing on the team not from MCHS. Seniors Amy Brodie and Luci Franklin commute from Steamboat Springs, while senior Alexsis Silva-McKay comes from Rangely, and senior Adrienne Wix comes from Meeker.
3: Three state qualifiers from a year ago return for the Bulldogs this season. Senior Luci Franklin competed on two relays, and senior Amy Brodie and junior Eryn Leonard competed individually and as members of the two relays.
2011-2012 Moffat County High School girls varsity swimming schedule:
(Date — place — host/opponent)
• Dec. 2 — away — Glenwood Springs High School
• Dec. 3 — away — Aspen High School
• Dec. 10 — away — League Relays at Colorado Mesa University
• Dec. 16 — away — Montrose Invite
• Dec. 17 — away — Montrose Invite
• Jan. 6 — away — Gunnison High School
• Jan. 7 — away — Delta High School
• Jan. 14 — home — Delta/Aspen
• Jan. 20 — away — Jeffco Invite
• Jan. 21 — away — Jeffco Invite
• Jan. 28 — away — Gunnison High School
• Feb. 3 — away — Western Slope League Championships
• Feb. 4 — away — Western Slope League Championships
• Feb. 10 — away — State Championships
• Feb. 11 — away — State Championships
While almost every other Moffat County High School winter sport is faced with young teams, the MCHS girls varsity swimming team is on the other end of the spectrum.
The team returns 11 swimmers from last season, including three seniors, and has 18 total swimmers — almost double the number from previous seasons.
Head coach Meghan Francone said she and co-head coach Anita Reynolds are excited about the numbers.
"I'm hoping we have strength in numbers," she said. "I'm very excited for the size of the team. We have a lot of experienced swimmers and swimmers who come from others coaches that can help us learn."
On top of the younger swimmers, senior Alexsis Silva-McKay from Rangely and senior Adrienne Wix from Meeker join the Bulldogs.
Silva-McKay and Wix are the latest two swimmers from outside Moffat County to join the MCHS swim team.
Steamboat Springs seniors Amy Brodie and Luci Franklin will be returning to the squad this season after qualifying for state last year.
Francone said having swimmers from out of town is great, but it does present a few challenges.
"It is hard because I like to know exactly what my girls are doing in practice," she said. "Anita and I work very hard on creating their workouts in macro and micro cycles. I can't have them here every day, so I have to trust they are doing their workouts."
The out-of-town seniors will join Danielle Knez, the only senior swimmer from MCHS, as the team's leaders.
However, Francone said they aren't the only girls pushing the team.
"I love my seniors. They are phenomenal," she said. "A few of them have been with me for a few years and know what we expect. We have leaders throughout all age levels though, and I expect leadership out of each girl.
"There is no slacking for anybody."
Along with Brodie and Franklin, MCHS junior Eryn Leonard also qualified for last season's state meet.
Leonard placed 16th in both the 100-yard butterfly and 100-yard freestyle.
Over the summer, Leonard also competed in the 2011 Long Course State Championships in Lakewood.
The junior placed 20th in the 100-meter butterfly and 18th in the 100-meter freestyle.
The summer competitions, Leonard said, will help this season.
"Having the training over the summer, rather than not getting in the pool, is a huge help," she said. "It helps with my endurance, and getting in the water earlier is always a plus."
Leonard said her goal is to place higher at state and improve in her favorite event — the 100-yard butterfly.
To do so, she said she would have to improve in all facets.
"I have to keep working hard in practice and prepare mentally before meets," she said. "I have a lot of technique I need to work on as well. My core could be a lot stronger so I can stay on top of the water."
With three returning state qualifiers, Francone said she is going to push hard early during practice.
"I expect them to have early qualifications and meet their goals," she said. "Leonard has meets outside of (Colorado High School Activities Association) she wants to qualify for, and some of the girls are seniors and want to be recruited by colleges. I want them to be able to meet their own goals."
The Bulldogs will compete Dec. 2 at Glenwood Springs High School to open the season.
The experienced swimmers combined with the new girls, Francone said, should make for an interesting season.
"My favorite thing to coach is competitive swimmers who are ready to compete," she said. "But, it is also fun to get some new swimmers to see them grow.
"It should be a fun year."
Click here to have the print version of the Craig Daily Press delivered to your home.