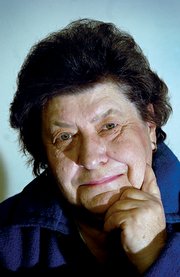 'Courtney's Pumpkin Spice Cookies'
Ingredients:
1 spice cake mix
1 small can pumpkin
1 package chocolate chips
Preheat the oven to 375 degrees. Mix up the ingredients above. Spoon onto an ungreased cookie sheet. Bake for about 15 minutes.
— Submitted by Courtney Ewing, of Moab, Utah.
You may have noticed that last week's column was a little short in length. There were supposed to be two recipes in the column, but when the editor tried to retrieve the column from my flash drive device, part of the first recipe was missing.
She couldn't reach me in time to get the entire recipe so she had no choice but to go with just one. So, you'll find "Pumpkin Cookies" in this week's column.
First, however, is another cookie recipe with pumpkin in its ingredients. It comes from Courtney Ewing, of Moab, Utah. Courtney is a physical therapist who has been helping out at Rehabilitation Services of Craig this week. She says this recipe is quick and delicious. I know that I'm going to try the recipe this weekend.
Here it is — just in time for Thanksgiving.
To make "Courtney's Pumpkin Spice Cookies," you will need the following ingredients: 1 box of spice cake mix, 1 small can of pumpkin and 1 package of chocolate chips (you decide how many).
Preheat the oven to 375 degrees. There's no need to grease the cookie sheet.
Mix the three ingredients together. Put the dough onto a cookie sheet by spoonfuls. Bake for 15 minutes.
That's all there's to it, and Courtney says the cookies are delicious.
Thanks so much, Courtney.
The next recipe is for "Pumpkin Cookies." It is from my files, origin unknown.
The ingredients are: 4 cups flour, 2 cups quick oatmeal (uncooked), 2 teaspoons baking powder, 1 teaspoon baking soda, 2 teaspoons ground cinnamon, 1 teaspoon salt, 1 1/2 cups butter or margarine, 2 cups firmly packed brown sugar, 1 cup white sugar, 1 egg, 1 teaspoon vanilla, 1 (16-ounce) can pumpkin, 1 cup butterscotch chips and 3/4 cup pecans or walnuts, chopped.
Preheat the oven to 350 degrees. Grease a cookie sheet.
Combine flour, oats, baking powder, soda, cinnamon and salt. Set aside. Cream the butter or margarine and sugars, beating until fluffy.
Add eggs and vanilla, mixing well. Add dry ingredients and pumpkin alternately to creamed mixture.
Stir in butterscotch chips and nuts. Drop by teaspoonfuls on the greased cookie sheet. Bake at 350 degrees for about 10 minutes, until lightly brown. (You may use chocolate chips.)
If you have a recipe you'd like to share, call me at 824-8809 or write to me at P.O. Box 415, Craig, CO 81626.
Happy Thanksgiving!
Click here to have the print version of the Craig Daily Press delivered to your home.