Colorado Meth Project, Boys
&

Girls Club educate

MCHS

students on meth abuse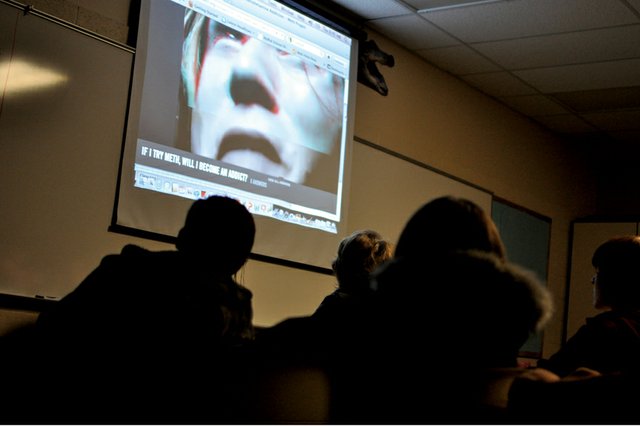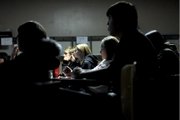 By the numbers …
• 7: Colorado's national ranking in the number of methamphetamine users ages 12 and older.
• 43: Percentage of methamphetamine users who began using the drug when they were 17 or younger.
• $1.4 billion: Estimated annual meth-related costs to Colorado, including expenses in the criminal justice, health and foster care systems.
Source: Colorado Meth Project
Warning signs ...
• Sudden changes in work or school attendance
• Frequently borrowing money, selling possessions or stealing
• Angry outbursts, mood swings or overall attitude change
• Deterioration of physical appearance and grooming
• Quick weight lost
• Wearing sunglasses and/or long-sleeved shirts frequently or at inappropriate times
• Secretive or suspicious behaviors, such as making frequent trips to isolated areas
• Possessing of paraphernalia such as razor blades, straws and heated spoons
• Feelings of exhaustion, depression and hopelessness
A photo flashed on the projector screen, and about 20 Moffat County High School students saw what to some may be unthinkable.
The picture showed a woman whose forearms were marred with deep gashes that had scabbed over. The skin around the wounds still looked red and inflamed.
These injuries were self-inflicted, Jonathan Judge, Colorado Meth Project program manager, told the students. The woman had gouged them herself during a methamphetamine-induced hallucination in which she believed insects were crawling under her skin.
That image is what Trace Walt remembered most from his lifetime health and fitness class at the high school Thursday morning.
"I thought it was pretty disgusting," the freshman said of the presentation, which was one of several the Colorado Meth Project conducted in Craig this week.
His classmate Erin Parrott, also a freshman, was also affected by what she'd seen in the class. She was struck by what happens to people who use meth, she said, "and how they'll neglect their personal lives so they can use the drug."
The Colorado Meth Project collaborated with the Boys & Girls Club of Craig to put on presentations at MCHS and other activities in the city as part of the "Not Even Once" meth prevention campaign, said Kim Maneotis, unit director for the Boys & Girls Club.
The two entities have worked together to fill the void left behind when Communities Overcoming Meth Abuse, a local group devoted to eradicating meth use, disbanded about a year ago.
Other campaign events in Craig included a presentation at Craig Middle School and luau at the Boys & Girls Club.
The intent was to educate students about the drug, which goes by many names — shock, ice, blanco and tweak, to name a few — and has taken its toll, financial and otherwise, in the state.
Colorado ranks seventh in the nation for total meth users ages 12 and older, according to information provided by the Colorado Meth Project. Of all meth users in the state who entered treatment last year, 43 percent of them started when they were 17 or younger.
"This is your generation's drug," Judge said Thursday morning.
Meth can be altered into more innocuous-looking forms. It can come in strawberry or peppermint flavors, he said, or can be made into a substance that seems like candy.
Regardless of what form it takes, however, its effects can still be devastating.
"Every drug, obviously, is bad in nature, in one way, shape or form," Judge said.
He added, "When we're talking about meth, we're talking about a different monster here."
Its effects shape communities by placing heavier burdens on the criminal justice and foster care systems, according to the Colorado Meth Project.
Meth labs can lower property values and cost tens of thousands of dollars to clean up, Judge said.
Yet, the greatest cost is the toll it takes on human lives.
Judge showed another photo to the students, this one of a mouth full of rotting, yellowed teeth ruined by meth abuse.
"This is permanent," he told the class.
COMA might be gone, but the problem it was meant to erase is not, Maneotis said.
"It's a problem," she said. "It's still is prevalent in our community."
Click here to have the print version of the Craig Daily Press delivered to your home.