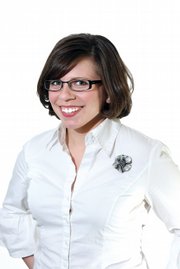 Weekend Movie Show Times
West Theatre
29 E. Victory Way
824-2000
• "The Twilight Saga: Breaking Dawn — Part 1," PG-13; 7 and 9:05 p.m. Fri. and Sat., 4 and 7 p.m. Sunday
• "Happy Feet Two," PG; 7 and 9:05 p.m. Fri. and Sat., 4 and 7 p.m. Sunday, 7 p.m. Monday and Tuesday
• Tickets: $7 for ages 10 and older, $5 for ages 9 and younger
• Sunday matinee: $5 for ages 10 and older, $4 for ages 9 and younger
Submit Your Event
Submit your event's details for consideration by emailing me at mballeck@craigdai... or calling 875-1790.
There's plenty of indoor fun on the docket for this weekend, when it's forecasted to snow some more.
Get into the holiday spirit with craft shows, a turkey giveaway, a donation collection and the adorable "Happy Feet Two."
■ Everybody cut "Footloose" at Moffat County High School's performance of the famed musical this weekend.
The show is scheduled for 7 p.m. Thursday and Friday, and 2 and 7 p.m. Saturday at the high school auditorium, 900 Finley Lane.
The cost is $5 per person at the door.
Call the high school at 824-7036 for more information.
■ Shop till you drop at three different events gearing you up for the holiday season.
The second annual Holiday Artisans Market will feature hand-crafted gifts by local artists from 9 a.m. to 4 p.m. Saturday at The Center of Craig, 601 Yampa Ave.
The second annual craft sale at Veterans of Foreign Wars Post 4265, 419 E. Victory Way, is scheduled for noon to 7 p.m. Friday and 10 a.m. to 4 p.m. Saturday.
The St. Michael's Bazaar, which features crafts, baked goods and gobs of prizes, is scheduled for 9 a.m. to 1:30 p.m. Saturday at the church, 678 School St.
■ Mathers Bar and the Yampa Valley APA Pool League host the next Chamber mixer from 5 to 7 p.m. Thursday at 420 Yampa Ave.
It's free, and there will be drinks involved.
RSVP to 824-5689 or office@craig-chamber.com.
■ Take home a turkey, and maybe some dough.
The Elks Lodge hosts turkey bingo at 6 p.m. Friday at the lodge, 43 E. Victory Way.
The lodge will be giving away a turkey in addition to the regular $45 payout for regular bingo. The progressive bingo is now up to $3,500 for blackout in 55 numbers or less.
The doors open at 5 p.m. so you can get there early.
Learn more from Frank — 824-6131 or 620-0874.
■ Learn to crochet with Mary Walters from 1 to 4 p.m. Friday at 655 Ranney St.
The classes are free.
To find out what materials to take, call Mary at 824-2923.
■ The season of giving is upon us, and a local church has a cool opportunity to jump in.
Calvary Baptist Church members are organizing a collection for Operation Christmas Child, a project of Samaritan's Purse.
There's a cool video on how to package a shoebox full of goodies for a child overseas at www.samaritanspurse.com/occ.
Donations are accepted from 8:30 a.m. to 4:30 p.m. through Saturday and 8 a.m. to noon Sunday at the church, 1050 Yampa Ave.
Call Julie Grobe at 824-4940 to find out more.
■ West Theatre is getting in two new releases this week — yay! On the big screen for your viewing pleasure are "The Twilight Saga: Breaking Dawn — Part 1" and "Happy Feet Two."
New at Redbox this week are "Pirates of the Caribbean: On Stranger Tides," "Batman: Year One," "Monte Carlo" and "2012 Ice Age."
Click here to have the print version of the Craig Daily Press delivered to your home.