Photo Gallery
LSRV football captures 2nd consecutive state title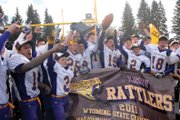 Results
Box score from the Little Snake River Valley six-man varsity football game Saturday against Dubois High School in Laramie, Wyo.:
(1st — 2nd — 3rd — 4th — final)
• LSRV: 21 — 20 — 6 — 7 — 54
• Dubois: 0 — 27 — 0 — 6 — 33
Scoring summary
First quarter
• LSRV — Daniel Wille 34-yard touchdown run — 7-0
• LSRV — Conner Lee interception return for a touchdown — 15-0
• LSRV — Zach Filip 24-yard touchdown pass to Daniel Wille — 21-0
Second quarter
• Dubois — Sterling Baker 27-yard touchdown pass to Mitchell Baker — 21-6
• LSRV — Zach Filip 49-yard touchdown pass to Rex Stanley — 29-6
• Dubois — Kyle Tea kickoff return for a touchdown — 29-13
• Dubois — Jesse Hawk 9-yard touchdown run — 29-19
• LSRV — Zach Filip pass to Mile Englehart, pitch to Daniel Wille for 44-yard touchdown — 35-19
• LSRV — Zach Filip 30-yard touchdown pass to Daniel Wille — 41-19
• Dubois — Sterling Baker 55-yard touchdown pass to Kyle Tea — 41-27
Third quarter
• LSRV — Daniel Wille 65-yard touchdown run — 47-27
Fourth quarter
• Dubois — Mitchell Baker 6-yard touchdown run — 47-33
• LSRV — Daniel Wille 3-yard touchdown run — 54-33
Laramie, Wyo. — With their backups on the field, the Little Snake River Valley School six-man varsity football starters congratulated each other with high fives and hugs on the sidelines.
When time ran out, the Rattlers lined up to shake their opponents' hands, but not before first drenching their head coach, Mike Bates, with Gatorade.
The players' next stop was the end zone, where they received their championship banner and trophy while chanting out loud to anyone who would listen.
"Back-to-back."
The Rattlers played in one of their toughest games of the season against Dubois High School on Saturday at War Memorial Stadium at the University of Wyoming in Laramie.
But, like it had gone all year, the Rattlers came out on top, 54-33, capturing their second straight Wyoming 1A six-man state title.
The victory made 21 straight for LSRV and capped off another perfect season at 11-0.
"I am a little beat up, but I couldn't feel any better in the world," senior Miles Englehart said.
"It feels awesome," junior Zach Filip said. "We came out and played our hearts out for the championship. Some of us played like we had never played before."
The game wasn't the closest of the Rattlers' season; that honor belongs to Midwest School, who fell 68-52 to LSRV on Oct. 14.
However, compared to last year's state championship game against Hanna-Elk Mountain, which LSRV won 67-12, Saturday's game was smash-mouth football.
"No offense to Hanna, but this was a much harder-fought game," Englehart said. "This is what we wanted because championships aren't supposed to be easy."
Getting the job done
The Rattlers wanted to score the first touchdown of the game, but they also wanted the ball to start the second half as a safety net.
So, lining up to kickoff to start the game, junior Cole Gourlay angled the ball to the left and fellow junior Manuel Quinteros recovered the onside kick to give the Rattlers the first possession.
One play later, senior Daniel Wille was in the end zone after a 34-yard touchdown run to give LSRV an early 7-0 lead.
On the Rams' first drive, LSRV junior Conner Lee picked off Dubois and ran it back for a touchdown to expand the Rattlers' lead to 15-0.
Before the end of the first quarter, Filip connected with Wille on a 24-yard touchdown pass to give LSRV a 21-0 lead.
"I think the kids have tenacity," Bates said of his team. "They see things and point it out to us coaches so they can go out there and execute. We all know what each other is doing and it helps us to find an opening."
The second quarter, however, went much differently for the LSRV defense.
Dubois scored three touchdowns — one on a 27-yard touchdown pass, another on a kickoff return and the last on a 9-yard touchdown run — to pull within 10 points, 29-19.
"(Dubois) was going to score, but we couldn't get down on ourselves," Wille said. "They made it here because they can score, so we just have to get the ball back and keep fighting."
On the Rattlers' next possession, Filip found Englehart at midfield for a completion before Englehart pitched the ball back to Wille.
Wille ran 44 yards to pay dirt to complete the successful hook-and-ladder, putting LSRV up 35-19.
The Rattlers used the same play in last year's championship game to score against Hanna.
Who wants it more?
On the last play of the second quarter, Dubois' Sterling Baker connected with Kyle Tea for a 55-yard touchdown pass to send the game into the half with LSRV leading 41-27.
Wille opened the second half with a 65-yard touchdown run, but like Bates had said all season: "Leading by a few touchdowns in six-man football doesn't mean they can't come back."
But, having players who make big plays helps, Bates said.
With Dubois driving in the fourth quarter and inside the LSRV 10-yard line, Wille picked off the Rams at the 1-yard line.
Earlier in the game, with Dubois with a 4th-and-goal situation, the Rattlers forced a fumble and Lee recovered to keep the Rams off the board.
"You know you have the athletes to do it, so you have to hope it works out that way," Bates said. "The boys worked hard at anything that was thrown at them and got the job done."
In the fourth quarter, after a Dubois touchdown to pull within 14, the Rams drove the ball again into Rattlers' territory.
Again, LSRV sent Dubois packing without any points after stopping them on fourth down.
"At that point, it is about whoever wants it more," Englehart said. "Our team has been doing it all year long and we got the big stops when we needed to."
The defense wasn't the only unit making big plays.
On a Rattlers drive in the fourth quarter, Filip took the snap from center and looked downfield to find no one open. The junior took off and got to about the Dubois 10-yard line for a 9-yard gain.
Two plays later, Filip found himself in a similar situation, and as he was getting tackled, pitched the ball to junior Cassidy Mikesell, who ran to the 3-yard line and set up an eventual Wille touchdown run to put the Rattlers up, 54-33.
"I was just trying to survive, run the clock out and not turn the ball over," Filip said. "We tried a few times to get (Mikesell) the ball, and I was able to do that and he wanted it and got (the first down)."
Something special
For 55 years, the school in Baggs, Wyo., went without a football team.
Finally, in 2009, the school suited up their first team since 1954.
The Rattlers went 3-4 in their inaugural six-man football season.
Wille, who played all three years since the program came back, said the first season was about growing pains.
"In the first year, we had no idea what we were doing or what to expect or prepare for," he said. "In the second and third year, we got better because we knew what we had to do to win.
"We have to keep working no matter what. We can't just go through the motions, but keep improving ourselves."
For several LSRV players, Saturday's state title was their fourth in a year. On top of the 2010 football state title, the boys basketball and track teams also won championships in 2011.
It isn't just pure luck, Bates said, but a credit to how hard the players work on and off the field.
"They are student-athletes first," Bates said. "It is incredible when you can coach a good athlete, but when you can coach an athlete who has a 4.0 (grade point average), they get it quicker and understand."
For Englehart, it goes beyond just the execution.
"Our chemistry is what helps us win," he said. "A lot of teams have a lot of good athletes, but if they can't work together, they can't win. I love these guys, and we have become family over these past couple of seasons."
Filip said he doesn't expect the winning to stop with this season.
The Rattlers had 12 juniors on their roster this year with six starting on at least one side of the ball.
"I feel next year will still be a pretty good team," Filip said. "We just have to keep giving it our all."
No matter what, the 2012 squad will have big shoes to fill.
As for who was the better state championship team over the past two years?
"Right now, I would give it us," Englehart said of the 2011 team. "Last year, I probably would have given it that year's team."
Click here to have the print version of the Craig Daily Press delivered to your home.