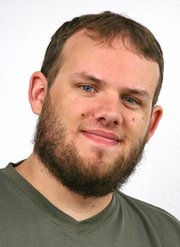 Business News Tips
The Daily Press wants to know what's happening at your business or place of
work, including promotions, new employees, transfers, awards, special deals, new products and more.
Send all your business news tips to the Daily Press by e-mail at: editor@craigdaily...
Connecting the mountainous regions of Colorado and Wyoming with the rest of the world can be a perilous task.
One of the men responsible for this accessibility is riding high as a result of his hard work.
Union Wireless employee Matt Myers won the "Toughest Site Competition" sponsored by Anritsu Company for his work maintaining Union's cell phone towers. Anritsu first announced the results of the competition in October.
In a news release, Anritsu Vice President and General Manager Donn Mulder discussed the criteria involved in the contest.
"The professionals who install and maintain wireless networks have extreme jobs. They deal with intense technical issues, not to mention snakes, scorpions, bears, desert-like heat and freezing cold to keep a network live for their customers," Mulder said. "We created the 'Toughest Site Competition' to see some of our customers' challenges, and thank them for their excellent work and dedication, even under the most difficult conditions."
Myers, a Colorado supervisor for Union, beat out competitors from Alaska, Georgia, Indiana, Oklahoma, Minnesota and more, taking home a Harley-Davidson Sportster 48 as the grand prize.
But, motorcycle ownership is no less risky than what he faces every day for his company, which serves Wyoming, Northwest Colorado and Northeastern Utah.
He regularly takes on 40 cell phone towers in the area, many of which are only accessible by snowmobile most of the year, with subzero temperatures and windy conditions posing a threat.
Myers said the top-notch maintenance equipment makes a difficult job easier.
"I can't afford to make mistakes. My team and I have to trust our vehicles, clothing and each other," Myers said in the release. "My test gear is no exception. The results have to be accurate. I trust the results of all my Anritsu test gear."
Craig restaurant adds new menu selections
A plate of spaghetti and a slice of pepperoni pizza are the kinds of meals many people can eat over and over again.
But, for those who want a change now and again, stop by downtown Craig and broaden your horizons.
Carelli's Pizzeria & Pasta, 465 Yampa Ave., recently started serving up new specialties as part of its menu. The Italian eatery's newest gourmet delicacies include new epicurean experiences in a trio of steaks: the rich flavor of Steak Carelli's with béarnaise sauce and crab meat; the sizzle of the Blackened 'Shroom Steak with sautéed mushrooms and onions; and the gooey goodness of the Gorgonzola Steak.
"We take cheese, herbs, basil, all that good stuff and melt it on top of the steak," co-owner Stephanie Perez said of the Gorgonzola Steak. "They're all eight-ounce sirloin steaks, choice USDA cuts, and they're all served with baked potato and asparagus. We also have a pork tenderloin medallion drizzled with a balsamic maple glaze."
For those who want to eat a lighter meal, Carelli's is also ladling out new soups, such as the beer cheddar made with the microbrew Dirty Hippie.
"We've got a Tuscan zuppa, a chicken gnocchi, they're all really good soups, and the soup and salad is all you can eat," Perez said.
Perez said the plan to add new items was to round out the menu while still keeping traditional Italian favorites like stromboli, lasagna and calzones available.
"Not everybody likes pasta or pizza, so we're trying to get that other little niche, fill out the menu a little bit," she said. "We've been serving them since the beginning of October. They've all been going like wildfire. People love them."
A splash of flair can be seen throughout the restaurant's tables with newly designed menus and wine lists.
"Everyone that came to our wine-tasting can come and see what they chose," Perez said. "We're also offering sampler platters for our microbrews, so if you don't know what you like, you can try little samples of all of them for five bucks. We've got a beer and wing festival in the works, we're hoping to do it in January."
Jan. 17 will mark the first anniversary of Carelli's ownership for Perez and fiancé Brett Etzler. But, before they celebrate their time with the restaurant, there's the holiday rush to handle.
"We've been booking a lot of Christmas parties and we're going to decorate it like a winter wonderland in the back," Perez said.
Business hours for Carelli's are 11 a.m. to 9 p.m. Monday through Saturday. For more information, call 824-6868.
Click here to have the print version of the Craig Daily Press delivered to your home.