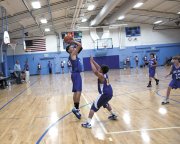 Results
Craig Middle School boys basketball results from games Oct. 28 and 29:
Eighth-grade A-team:
• Oct. 28 — Baggs, Wyo. — 35-34L
• Oct. 29 — Hayden — 45-2W
— Season record: 2-1
Seventh-grade A-team:
• Oct. 28 — Baggs — 32-25W
• Oct. 29 — Hayden — 30-9W
— Season record: 3-0
One shot can make the difference on the basketball court.
This is something Craig Middle School's eighth-graders learned the hard way Oct. 28 against Baggs, Wyo.
The eighth-grade A-team suffered its first loss of the season when the game against Baggs ended 35-34. A shot at the buzzer to win fell short for the Bulldogs.
Coach Drew Morris said his team came back from 20 points down in the fourth quarter.
For the coach, the effort proved how tough his players are.
"We really left it all on the court," he said.
The lesson was both learned and applied, however, as the team progressed through the weekend.
The players turned around for their next game, an Oct. 29 contest in Hayden, which resulted in a 45-2 blowout for the Bulldogs to leave their season record 2-1.
7th graders stay perfect
The seventh-grade A-team also played a strong game against the Tigers.
After a 32-25 win over Baggs on Oct. 28, the team beat Hayden 30-9, rounding out a 3-0 record.
Coach Justin Folley said his players took advantage of scoring opportunities at every point.
Bronc Hellander and Keenan Hildebrandt each netted 10 points against Baggs, and Eddie Smecina led the scoring against Hayden with the same amount.
"We played a great defense and ran our offense well in both games," Folley said.
Up next
The seventh- and eighth-grade teams will play Steamboat Springs today at home and travel Saturday to Rangely.
The eighth-grade A-team beat the Sailors 39-32 in the first game of the season, while the B-team lost 23-20.
Morris said he's hoping for a pair of wins this time around.
"We have worked on defense most of the week in preparation for Steamboat and Rangely," he said. "I am hoping to see an improvement in hustle on the floor this weekend. Our kids are coming along and we should see a marked improvement this weekend."
Both seventh-grade A- and B-teams trumped Steamboat in the opener, but Folley said he is not going to allow his teams to coast on their past wins.
"We've been putting in some new offensive plays and working hard on rebounding and looking for our open shots," he said. "Our defense has been improving throughout the past two weeks and we are ready to play Steamboat again.
"I know they will have made the adjustments to improve their game but we'll be ready."
Click here to have the print version of the Craig Daily Press delivered to your home.