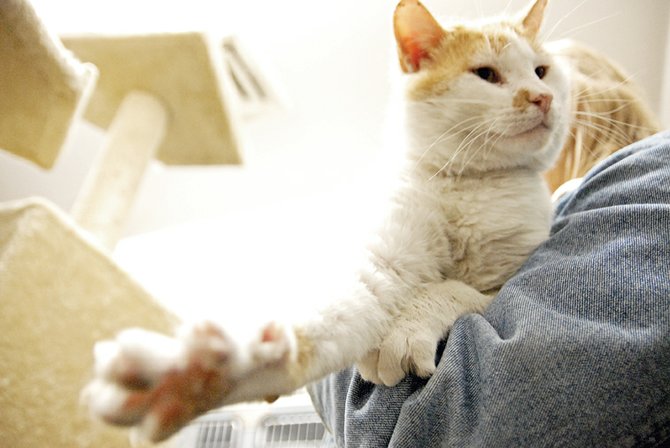 Humane Society offering reduced-cost adoptions in face of rising numbers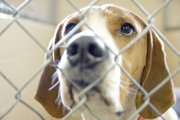 If you go…
What: Humane Society of Moffat County reduced-price pet adoption event
When: 9 a.m. to noon Saturday
Where: Craig Animal Shelter, 2430 E. Victory Way
Cost: Adoptions are $60
• Learn more about the pets up for adoption by visiting www.petfinder.com...>
Available pets
Pets currently available for adoption at the Craig Animal Shelter:
Cats:
• Demmi, an adult female tabby
• Marah, an adult female with a litter of five kittens
• Sammy, an adult male, brown
• Sampson, an adult male, orange and white
• Socks, an adult female, black and white
• Sugar, a 6-week-old female black and white kitten
• Sweets, and adult female tabby
• Velvet, an adult female with five kittens
Dogs:
• Amigo, an adult male hound
• Bart, an adult male hound
• Ben, an adult male Chihuahua
• Cain, a four-month-old male Great Pyrenees
• Captain, an adult male black Labrador
• Cee Cee, an adult female border collie mix
• Missy, an adult female border collie/Labrador mix
• Sandy, an adult female border collie
• Shania, an adult female black Labrador
• Sophie, a four-month-old female Great Pyrenees
Rabbit:
• Floppy, an adult lop-eared rabbit
Carol Scott, treasurer for the Humane Society of Moffat County, said the number of animals that end up in the Craig Animal Shelter seems to be on the rise.
To cope with the numbers, the Humane Society is offering a reduced-price adoption event, something they have done several times this year.
From 9 a.m. to noon Saturday at the animal shelter, adopting a pet will cost $60. The usual fee is $114.
Eighteen cats, 10 dogs and one rabbit are currently available for adoption.
Scott said the increase in animal numbers is partly due to a 2010 change in policy at the Craig Animal Shelter.
"The shelter began accepting surrendered, or relinquished, pets in 2010," she said. "Folks will do that when they're out of options, if they have to move and they can't take their animal."
Scott also suspects the economy has something to do with increased numbers.
"I do feel like the economy is playing a part in the increase — not just the (animals) that go through the official surrendering protocol, but also stray animals," she said. "A lot of times, animal control will have a sense of where that animal came from, but the owner won't come and get it (from the shelter)."
Jill Nelson, a community service officer with the Craig Police Department, said she spends part of her day rounding up animals. According to statistics from the department, there has been a modest rise in impounded animals over last year. By the end of April 2011, 190 animals had been impounded compared to 182 at the same time last year.
It's not a statistically significant increase, but Nelson said she's seeing more instances of pet forfeiture in Craig and Moffat County.
"We're seeing a lot of dogs that seem to be cared for. They seem like they would be somebody's pet," she said. "Sometimes you get a feeling when you pick a dog up. You're like, 'Oh, this is definitely somebody's pet, and it's going to go home. It just got lost.' But, so many of those are just staying here."
In addition, Nelson said she has noticed a slowdown in adoptions.
"We're also seeing a lot of dogs not move quickly," she said. "So, some of the dogs that, in the past, would have been snapped up really quickly are staying longer.
"Again, I don't have any numbers to substantiate that. It's just our feeling."
Nelson said the job of impounded animals can tug at the emotions.
"Sometimes, yes," she said. "It's hard, but the Humane Society does a really, really good job."
Learn more about the pets up for adoption by visiting www.petfinder.com. For more information about the reduce-price adoption event, call Carol Scott at 824-2103.
Click here to have the print version of the Craig Daily Press delivered to your home.