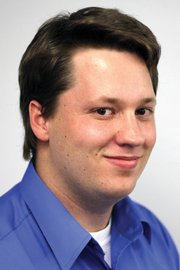 Business News Tips
The Daily Press wants to know what's happening at your business or place of
work, including promotions, new employees, transfers, awards, special deals, new products and more.
Send all your business news tips to Scott Schlaufman by e-mail at:
<
p>sschlaufman@cra...
>
When Ryan Rowley opened Rhino's Deli inside Mathers Bar last month, he said it would be the only late night open kitchen in Craig.
The upside, he said, is being able to cater to a late night crowd.
"Thursday, Friday, Saturday, I'm open until 2 a.m. and I deliver all that time, so it gives people an option and a niche that isn't currently out there," Rowley said.
Rowley has spent 18 years in food industry before starting the restaurant.
"I just decided to take the leap and do something of my own," he said.
While bar restaurants aren't always known for their cuisine, Rhino's offers a variety of items, including panini sandwiches, burritos, tamales, brats, hotdogs and numerous appetizers.
Dishes can be eaten at the deli, packed to go or delivered.
Rhino's is open from 11 a.m. to 10 p.m. Monday through Wednesday, and 11 to 2 a.m. Thursday through Saturday.
Stop by at 420 Yampa Ave., or call 824-9966.
Fun happenings this week at McDonalds
Brenda Elsbree, area supervisor at McDonalds, said the restaurant is proud of its new Playland, but isn't sure many people know about it yet.
"It's very interactive and very music based," she said about the new equipment. "The kids seem to really love it and it really gets them up and moving."
To get word out, McDonalds is having two events this week for children and their families to enjoy.
On Tuesday, children will have a chance to meet the famous Ronald McDonald, who will be stopping by the restaurant during lunchtime.
On Saturday, the Playland will host its grand opening, which will have appearances by both the Craig Police Department and Craig Fire/Rescue, Elsbree said.
As part of the opening, there will be 25-cent ice cream cones all day and there will be a bicycle safety program run by the police department starting at 2 p.m.
Elsbree said at the conclusion of the safety program, two bikes will be raffled off, but people must be present to win.
Click here to have the print version of the Craig Daily Press delivered to your home.