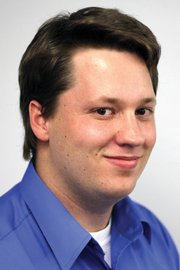 Business News Tips
The Daily Press wants to know what's happening at your business or place of
work, including promotions, new employees, transfers, awards, special deals, new products and more.
Send all your business news tips to Scott Schlaufman by e-mail at:
<
p>sschlaufman@cra...
>
Andrea Meckley, an employee at Tunies & Such, said opening for the season has been hard work.
"It's nice to see color though, not just a bunch of snow," said Meckley, one of the family employees who works at the business.
Tunies & Such, 690 Yampa Ave., is one of several local businesses selling trees, flowers, shrubs and other items to scratch the itch of any restless green thumb.
Other local plant sellers include, but are not limited to, Bears Ears Landscapes, 1815 County Road 183, City Market and Walmart.
The latter two, both along Victory Way, recently opened up their outdoor gardening areas.
In the case of Tunies & Such, Meckley said the family worked to open the store in time for Mother's Day on Sunday.
She said the store is willing to offer advice and help in choosing what will work for your garden.
One takeaway at this point — while weather warmed up over the weekend — is that it's still early to start planting in some cases.
"Some of the stuff, it's too cold to put out still, so I would wait a few weeks to put most of it out," Meckley said, noting the at-risk plants include shrubs, miniature roses, chrysanthemums and vegetables.
"Just wait a few weeks for those," she said.
EDP offering 1st Steps class this week
If you have an idea for a new business in town, you'll have an opportunity this week to get a push in the right direction.
The Craig/Moffat Economic Development Partnership will be hosting a free class titled "First Steps: How to Start a Business 101" from 6:30 to 8:30 p.m. Thursday in the second floor conference room at the Moffat County Courthouse, 221 W. Victory Way.
The class aims to help determine whether a business idea will work, if it can be profitable and also give budding entrepreneurs the resources to turn their ideas into a business.
Registration is preferred, but not required, EDP director Darcy Owens-Trask said.
Give Darcy a call at 826-2039 for more information.
Click here to have the print version of the Craig Daily Press delivered to your home.