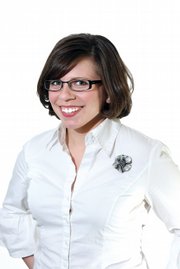 Movie show times
West Theatre
29 E. Victory Way
824-2000
• "Thor," PG-13; 7 and 9:05 p.m. Fri. and Sat., 4 and 7 p.m. Sunday
• "Scream 4," R; 7 and 9:05 p.m. Fri. and Sat., 4 and 7 p.m. Sunday, 7 p.m. Monday and Tuesday
• Tickets: $7 for ages 10 and older, $5 for ages 9 and younger
• Sunday matinee: $5 for ages 10 and older, $4 for ages 9 and younger
Submit your event
Submit your event's details for consideration by e-mailing me at mballeck@craigdai... or calling 875-1790.
Whether you're into shopping or golfing, horse herds or wrestling, you're sure to find a lot of fun in the variety of offerings this weekend in Moffat County.
■ If you've never been to Maybell to watch as the Sombrero Ranches horses are driven through town, you're missing out.
The 800 horses will be led along U.S. Highway 40 on their 60-mile trek from Browns Park to a ranch near Craig.
The horses and cowboys will pass through Maybell sometime between 10 a.m. and 1 p.m. Sunday, and gobs of people like to watch them pass by from Maybell Park and along the sides of the highway.
It's surely a sight to see. Just don't forget your camera.
■ Pick Mom up something nice.
Sunday is Mother's Day, so Saturday is the perfect opportunity to find your mom, grandma or any other special woman in your life a unique gift.
Find it at the Spring Mother's Day Bazaar from 9 a.m. to 4 p.m. Saturday at Centennial Mall, 1111 W. Victory Way.
The fair will include more than 70 vendors with jewelry, crafts, potted flowers, candles and more.
Also, there's a mother-daughter fashion show put on by Maurices at 2 p.m.
Call the mall at 824-7011 for more details.
■ Hit the links — perhaps for the first time this year — during Yampa Valley Golf Course's Fiesta Time couples golf tournament at 5:30 p.m. Friday.
Play nine holes of golf and enjoy a Mexican dinner. There's a prize for the best costume.
The price is $46 per couple.
Call 824-3673 to find out more.
■ Share your voice with the world, or at least the crowd at Carelli's.
The restaurant, 465 Yampa Ave., hosts open mic night from 6:30 to 9 p.m. Tuesday, and anyone who wants to share music, poetry or comedy is welcome to sign up. It's free.
Call 824-6868 if you need to know more.
■ Be one of many participating in the National Day of Prayer on Thursday.
Craig church leaders will host a gathering from noon to 1 p.m. Thursday under the flagpole at the Moffat County Courthouse, 221 W. Victory Way.
Head over to join in or get more info. from Myrt Stagner at 824-3355 or 629-0821.
■ Listen in as health care speaker Dr. Kelly Victory and country singer Joyce Shaffer present at the Bears Ears Tea Party Patriots meeting.
The gathering is at 7 p.m. Thursday at The Center of Craig, 601 Yampa Ave.
Find out more from Billie Jacobs at 824-0339.
■ Support local youths in their respective sports this week.
At 4 p.m. today, the Moffat County High School girls varsity soccer team plays Steamboat Springs High School at Loudy-Simpson Park, 500 S. Ranney St.
The varsity team plays again at 4 p.m. Thursday against Palisade High School, also at Loudy-Simpson. The JV team follows at 5:45 p.m.
The boys varsity swimming team competes at 3 p.m. Friday against Montrose High School at home, 900 Finley Lane.
And at 9 a.m. Saturday, check out the Craig Bad Dogs youth wrestling tournament at the high school, 900 Finley Lane. Admission is $3 for the tourney.
■ West Theatre is showing "Thor" and "Scream 4" starting Friday.
New at Redbox this week are "Little Fockers," "The Green Hornet," Casino Jack" and "From Prada to Nada."
Click here to have the print version of the Craig Daily Press delivered to your home.