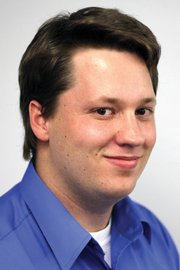 Business News Tips
The Daily Press wants to know what's happening at your business or place of
work, including promotions, new employees, transfers, awards, special deals, new products and more.
Send all your business news tips to Scott Schlaufman by e-mail at:
<
p>sschlaufman@cra...
>
Some of Chris Zulian's first jobs in the electrical industry weren't typical homes and businesses.
Instead, Zulian served as a shipboard electrician for the U.S. Navy in the early 1990s.
Zulian, who moved to Craig last year, started Royal Electric earlier this year. The company offers residential, commercial and industrial electric services.
He operates out of his home, but said he has more than 20 years of experience in the field and is a certified master electrician.
"I got my schooling and my education through the service," Zulian said. "I got out and I've done all kinds of buildings, mostly commercial and industrial, but I've also done custom homes."
Royal Electric can be reached at 824-5952.
Pre-paid postage on greeting cards offered
Greeting cards are a staple of the holidays, but sometimes there's a bit of hassle involved.
Namely, buying stamps.
Earlier this month, Hallmark Cards, Inc., and the U.S. Postal Service teamed together to offer greeting cards with pre-paid postage. The cards are specially packaged and feature the Postal Service's Intelligent Mail barcode on the front of the envelope.
According to Hallmark, the barcode is treated like a Forever stamp and the value will always be equal to the price of a First-Class stamp, regardless of when it is mailed.
During a recent trip down Victory Way, I was able to find the postage-paid cards at Walmart, Walgreens and City Market. The prices on the cards are comparable to their postage-free equivalents.
There are cards for both typical greeting card occasions and plenty of seasonal cards for Easter.
The selection varies depending on the store.
Click here to have the print version of the Craig Daily Press delivered to your home.