If you go
What: Moffat County High School Theatre Department's presentation of "The Somewhat True Tale of Robin Hood"
When: 7 p.m. tonight and Friday, and 2 p.m. and 7 p.m. Saturday
Where: Moffat County High School auditorium, 900 Finley Lane
— Admission is $5 per person
Photo Gallery
MCHS' "The Somewhat True Tale of Robin Hood" rehearsal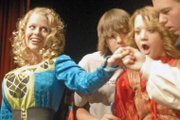 Heather Dahlberg has no doubt as to the readiness of her actors to perform in front of the community this week.
"They are so prepared," said Dahlberg, a Moffat County High School teacher and co-director of "The Somewhat True Tale of Robin Hood."
This week, the MCHS Theatre Department will bring life to the stage during four performances at the school's auditorium, 900 Finley Lane. The show's premiere is at 7 p.m. tonight, and additional performances are slated for 7 p.m. Friday, and 2 p.m. and 7 p.m. Saturday.
Admission is $5 per person.
Dahlberg said the play is a winner.
"It's well put together, it's well constructed and it's funny," she said. "There's stuff for adults, and there's stuff for kids."
The theatre department began work on the production in late January.
Rehearsals hit a mild stumbling block two weeks ago when one of the lead actors had to be replaced. That actor is now back as a cast member.
"The whole thing got cleared up and everybody seems happy," Dahlberg said. " … Everybody got to go back to their normal characters, and everything just kind of fell into place."
On Saturday, after the matinee performance, the actors will host a mock wedding reception for the characters of Robin Hood and Marion.
The reception is aimed at children, Dahlberg said.
"Little kids can come down and have some wedding cake and some lemonade and they can meet Robin Hood and Marion and all the rest of the characters," she said. "It's a little fundraiser for the theatre department, but it's also to get the community involved with the cast."
Admission for the reception is $2 per person.
Dahlberg hopes her actors play to a full house during each performance.
"It's cheaper than a movie and it's way more fun," she said. "I can't imagine people wouldn't want to come out and see these really talented kids do a really funny show."
Click here to have the print version of the Craig Daily Press delivered to your home.