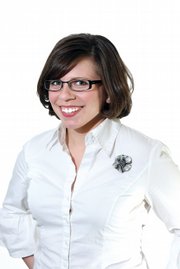 Weekend movie show times
West Theatre
29 E. Victory Way
824-2000
• "Mars Needs Moms" , PG; 7 and 9:05 p.m. Fri. and Sat., 4 and 7 p.m. Sunday
• "Rango" , PG; 7 and 9:05 p.m. Fri. and Sat., 4 and 7 p.m. Sunday, 7 p.m. Monday and Tuesday
• Tickets: $7 for ages 10 and older, $5 for ages 9 and younger
• Sunday matinee: $5 for ages 10 and older, $4 for ages 9 and younger
Submit your event
Submit your event's details for consideration by e-mailing me at mballeck@craigdai... or calling 875-1790.
It's time for green beer, leprechaun sightings, once-a-year meals and Kiss Me, I'm Irish buttons.
Yep, it's St. Patrick's Day on Thursday.
■ Get your grub on then wash it down with a seasonal beverage. Here's a rundown of St. Patty's Day craziness for your pure enjoyment:
Carelli's, 465 Yampa Ave., has some deals as well as some freebies. Check out free "Kiss Me, I'm Irish" necklaces and free collectible cups to the first 50 Irish car bomb drinkers for $5. There's $4 green beers, $2 green Jell-O shots and $7.95 Ruebens featuring pastrami, sauerkraut, horseradish and 1000 island dressing Thursday.
Casa Loya, 351 Ranney St., has $1 draft beers, plus kids eat free after 5 p.m.
Gino's Neighborhood Pizzeria and Grill, 572 Breeze St., has $1.50 pints and $3 pitchers of green beer and $3 Jameson shots all day Thursday.
Golden Cavvy Restaurant & Lounge, 538 Yampa Ave., has specials on dinners, desserts and drinks Thursday. It's $10.95 for a meal with soup and salad, which includes either corned beef and cabbage or Irish pot roast with green chili cheddar cornbread. The restaurant also offers Irish coffee cake, lemon pudding crumb cake and Irish Bailey's cream pie for $3.25 each. Green beers are $2 and Irish car bombs are $6.
Intermountain Appliance, 395 School St., offers up free green beer and snacks from 4 to 7 p.m. Thursday.
J.W. Snack's Bar & Grill, 210 E. Victory Way, features a special of corned beef and cabbage as well as deals on Guinness beer and Irish car bombs starting at 11 a.m. Thursday.
Mather's Lounge & Café, 420 Yampa Ave., has free corned beef and cabbage beginning at 5 p.m. Thursday, as well as drink specials, karaoke and dancing.
The OP Bar & Grill, 534 E. Victory Way, has all-you-can-eat corned beef and cabbage, potatoes and bread for $4.50 on Thursday. Green beer drafts are $1.50.
The Popular Bar, 24 W. Victory Way, has free corned beef and cabbage from 1 p.m. on, a disc jockey and green beer specials Thursday. Proceeds from Jell-O shots will benefit Relay for Life.
Veterans of Foreign Wars Post 4265 restaurant, 419 E. Victory Way, serves up $7.95 plates of corned beef and cabbage or go for all-you-can-eat for $9.95. Green beers are $1 Thursday.
■ Chauncey Williams and the Younger Brothers Band headlines the Sports Page Bar at the Holiday Inn of Craig, 300 S. Colo. Highway 13, on Friday and Saturday nights.
So if you're still standing after St. Patrick's Day, head on down for some stellar tunes (I can testify to that).
■ Catch a good show as the Moffat County High School Theatre Department presents the comedic play, "The Somewhat True Tale of Robin Hood" this weekend.
Performances are scheduled for 7 p.m. Thursday, 7 p.m. Friday and 2 p.m. and 7 p.m. Saturday at the high school auditorium, 900 Finley Lane. Admission is $5.
Be a special guest at the mock wedding reception for Robin Hood and Marion following the Saturday matinee for $2.
Call the high school at 824-7036 to find out more.
■ Catch some basketball action during the Yampa Valley Classic Youth Basketball Tournament on Saturday and Sunday.
The event includes 20 or more teams of sixth- through eighth-graders from the Western Slope and Wyoming.
Games start at 8 a.m. both days at Moffat County High, Craig Middle, Sandrock Elementary and Sunset Elementary schools.
Admission is $5 for adults, $3 for seniors and free for students, if you want to see some hoops.
■ West Theatre is holding onto "Mars Needs Moms" and "Rango" for another week so the kids can have a little fun this weekend, too.
New this week at Redbox are "The Fighter," "The Switch" and "Unstoppable."
Click here to have the print version of the Craig Daily Press delivered to your home.