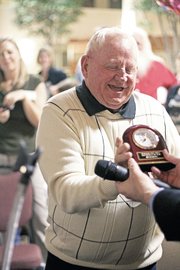 Below are award winners named during Wednesday night's State of the County 2011 event:
• Large Business of the Year: Tri-State Generation & Transmission
• Small Business of the Year: Golden Cavvy
• Young Businessperson of the Year: Clint Gabbert of The Jungle Pet Shop
• Businessperson of the Year: Darrell Camilletti of Mountain West Insurance
• Craig Chamber of Commerce Ambassador of the year: Laurie Ogden
• Citizen of the Year: Jim Meineke
Al Shepherd walked to the podium Wednesday night and took the microphone.
Earlier in the day, Shepherd had been asked to present the Craig Daily Press/KRAI Citizen of the Year Award during the Craig Chamber of Commerce's State of the County 2011 event at the Holiday Inn of Craig.
"I have known this person for many, many years — about 45 years as friends," Shepherd said.
In the audience was 78-year-old Jim Meineke, a Craig native. Meineke was unaware that his name was about to be called as the award winner.
As Shepherd shared details of Meineke's life, Meineke watched his friend intently, his face shifting from puzzlement to curiosity to surprise to elation.
"He was born here in 1932, somewhere out in the fields," Shepherd joked.
Meineke joined the U.S. Marine Corps, fought in Korea and was awarded three Purple Hearts.
"I think one (Purple Heart) was because he was diving into a foxhole and hurt his rear," Shepherd quipped.
Shepherd couldn't keep the news of his friend's award a secret much longer.
"It's Jim Meineke," he said to a round of applause.
Meineke, still seated, doubled over, slapped his knee and laughed.
Shepherd said Meineke is a diligent volunteer within the community.
"He's done so many different things," Shepherd said. "When he retired, he got mixed up.
"He started volunteering for everything. He is the busiest person you can imagine."
Meineke's current volunteer pursuits include the Craig Lions Club, Moffat County Search and Rescue, Craig Elks Club, Veterans of Foreign Wars Post 4265, and the Craig Planning and Zoning Commission. He is also a former member of the Masons and a retired member of Craig Fire/Rescue.
Meineke has been married to Vi Meineke for 53 years.
They have two daughters, Laurie and Sherry, and three grandchildren, Tyler, 17, Zachary, 14, and Shoshana, 2.
Meineke walked to the podium to accept his award. He said there are good reasons for his volunteerism.
"I do have three Purple Hearts," he told the audience. "And when I got those Purple Hearts, I prayed to God to send me home, and if he did I would volunteer for the rest of my life.
"I get tears when I think about it."
Meineke encouraged audience members to encourage their children to volunteer.
"I have grandchildren. I make … well, I suggest, that they volunteer," Meineke said to audience laughter.
"Volunteerism is one of the greatest things we have in our nation. The volunteers make this world. I don't give a damn who you pay or what you pay, the volunteers do the work.
"Thank you, thank God, I really appreciate this."
Click here to have the print version of the Craig Daily Press delivered to your home.